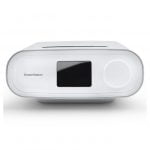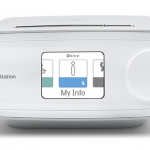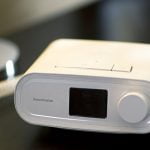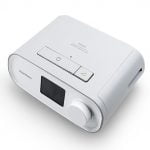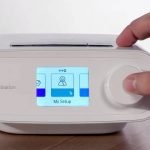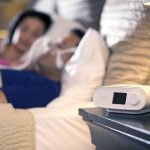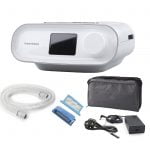 Philips Respironics DreamStation Auto CPAP
€980.00
The DreamStation auto CPAP is one of the most advanced automatic PAP machines Philips Respironics has ever released! Apart from its one-of-a-kind attractive look, the DreamStation packs a variety of premium features centered on patient comfort and ease of use. This auto CPAP machine treat Obstructive Sleep Apnea (OSA) by delivering tailored air pressure according to the prescribe pressure to stop episodes of apnea during sleep. The DreamStation maintains constant lower pressure until it detects that the sleeper is need of additional pressure to stop the apneic events. If you are looking for a highly effective and proven CPAP device that also boasts a unique modern look, then look no further than the Philips Respironic DreamStation!
Auto adjusting pressure algorithm (SmartRamp) delivers a constant lower pressure until apneic event detection;
User-friendly color screen with front-facing menus for easy in-bed control and diagnostics;
Integrated sensor detecting ambient light and dimming the screen in a dark room/brightening it when light is switched on;
Opti-Start feature keeping track of average pressure starts therapy immediately at same pressure level;
Built-in heated humidifier, easily accessible from the top of the device, easy to remove, fill water chamber and replace in the CPAP.
Description
Description
Philips Respironics DreamStation Auto CPAP
Apart from its advanced automatic algorithm with apneic event detection, the DreamStation Auto CPAP also comes with full reporting capabilities resembling a sleep study. Among the many improved features of the DreamStation are a constant lower pressure delivery system with automatic pressure response to increased pressure needs, an intuitive user screen and control knob for easy device control while in bed, an integrated sensor that detects ambient light in the room and adjusts screen brightness in order to not disturb your bed partner, and many more!
Full list of features 
Patient focused design
DreamStation presents a sleek, modern low-profile look with all of the important features for successful sleep apnea treatment at home. The Philips Respironics DreamStation is remarkably small and light, allowing you to easily pack it and travel with it. This auto CPAP comes with intuitive menus, a front-facing LCD screen that can be conveniently operated while lying down or sitting up in bed. In addition, the device features as an easy-to-clean, 1-piece humidifier water chamber.
Simplified device evaluation
Remote troubleshooting makes in-home device evaluation a breeze. The built-in self-diagnostic tool will save you time and frustration often associated with CPAP troubleshooting.
Cost-effective connectivity
The built-in Bluetooth is included in every DreamStation device, with an optional Wi-Fi and cellular modems available to provide give you a complete suite of connectivity options.  In addition, the DreamStation modular design allows you to select the most cost-effective option for your needs.
Personal acclimation to PAP therapy simplified
DreamStation comes with a pack of tools to help make it easy for patients starting PAP therapy and for their continued long-term use. EZ-Start can help patients gradually acclimate to therapy, while SmartRamp allows users to fall asleep to lower pressures.
S progress tracking
Waking every morning with the DreamStation, you are greeted with a motivating summary of your sleep apnea therapy which will motivate you to stick with your therapy and sleep better. The DreamStation display will be showing you a simple trend of your nightly hours of use, followed by a personalized summary of the last one month of "good nights" that have more than 4 hours of use!
Support for the long term
The built-in Bluetooth connectivity and the DreamMapper tool makes patient self-management easy. Using the DreamMapper you benefit from motivating goal-setting tools, helpful educational videos and continuous feedback to keep you always motivated and engaged in your successful PAP therapy. That means that you can get the help you need faster than with any other Philips Respironics device out there, such as the
System One CPAP
.
The DreamStation package includes:
Philips Respironics Dreamstation Auto CPAP Machine
Built in Bluetooth
SD card
User manual
Carrying case
2 year Warranty
Power Cord
Power Supply
Technical specifications
Technical specifications
Downloads
Downloads
FAQ
FAQ
Q. Can I travel with the DreamStation?
A. Traveling with the Philips Respironics DreamStation is made easy thanks to its extremely compact design that aloows you to fit the machine in any medium-sized bag and take it with you on your next travel adventure. Although this is not a travel CPAP model, you can definitely travel with your DreamStation so that you don't discontinue your sleep apnea therapy.
Q. Does ResMed AirSense 10 Elite come a universal power supply?
A. Yes, just like most ResMed devices, AirSense 10 Elite comes with a universal power supply that can be used even on an airplane.