Sale!
3B Lumin CPAP Cleaner – UV-C Light Sanitizer
3B Medical Lumin is a UV-C light CPAP sanitizer designed for everyday use. Although this UV cleaner is a dedicated UV-C light CPAP sanitizer (designed primarily for CPAP humidifier, masks, tubings and mask parts), in fact, Lumin is a household item ultra-violet light cleaner that can be used to sterilize a large variety of items such as cellphones, watches, keys, and more.
Uses a high-energy sun-like focused UV-C light to clean CPAP equipment and even other household items;
UV-C light (not ozone!) method of eliminating viruses, bacteria and harmful microorganisms;
Ultra-durable bulb rated 9,000 hours;
Only 5 minutes per usage, and CPAP device (humidifier), mask, mask parts and tubing are sanitized;
Designed for everyday use;
Safe for use and does not emit an odor.
Description
Description

Lab-tested against 99.9% of viruses and bacteria
The 3B Lumin destroys viruses and bacteria in or over your CPAP masks and accessories by utilizing a powerful low-pressure, mercury-arc UV-C lamp.
The safe-to-use CPAP cleaner
Using the power of UV light, Lumin disinfects bacteria, viruses, dirt buildup, mold and microorganism without damaging your CPAP equipment and voiding its warranty.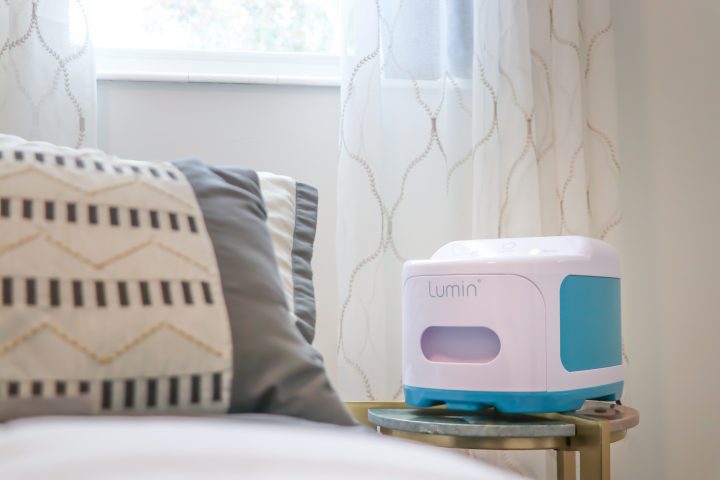 Lumin is NOT an ozonator!
The device does not use 'activated oxygen', or ozone.
Instead, 3B Lumin cleans even electronic CPAP equipment using Ultra Violet (UV) light.
No Chemicals, no ozone, no warranty voiding
Unlike CPAP ozonators, using the Lumin CPAP Cleaner will NOT void your ResMed warranty. (ResMed strictly warns its customers about this).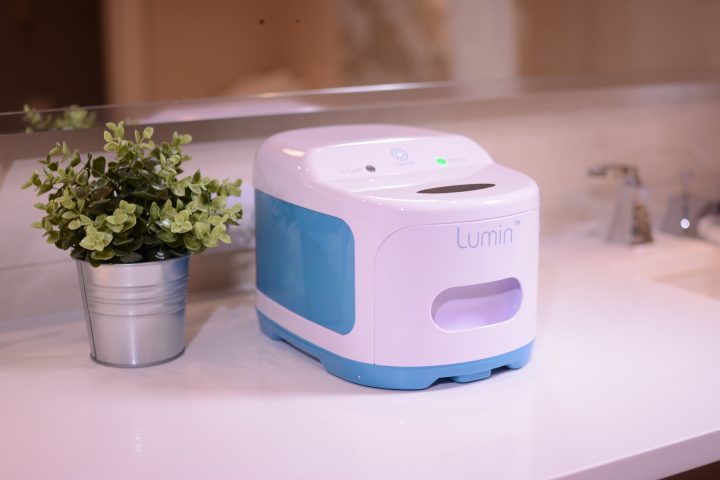 Terminate it like Schwarzenegger
The 3B Lumin CPAP Cleaner will clean your ResMed AirSense 11 humidifer, mask, hoses and mask parts with a beam of high-energy Ultra-violet light focused exactly on the wavelength that will terminate like Schwarzenegger all those nasty bacteria and viruses.
Not only powerful but also cost effective
3b Medical Lumin CPAP cleaner comes packing a High-Powered UV-C bulb, rated to 9,000 hours of epic bacteria- and virus-cleaning adventures. And, with the Lumin short 5 minute full-disinfection cycle, that means that you'll be enjoying years of clean CPAP devices, masks, tubes and maks parts before having to replace the UV-C bulb!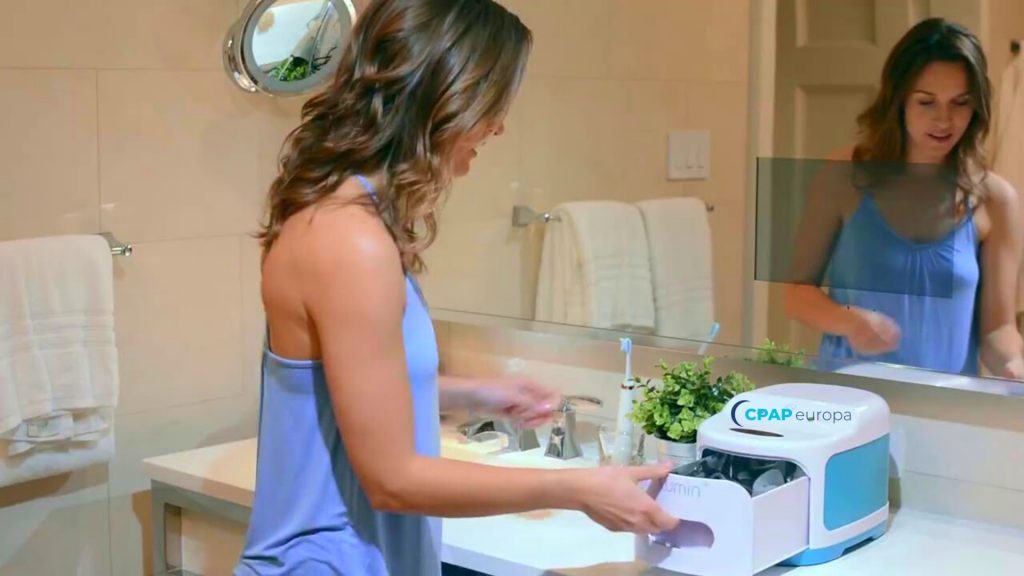 How do you use the 3B Lumin CPAP Claner?
Using the 3B Lumin UV-C Cleaner is really simple. You just place your CPAP equipment inside and press a single button. Before placing your CPAP mask or humidifier inside, though, please make sure to wipe them and remove any physical debris on their surface. Place equipment face up into the Lumin chamber. Then, close the drawer, press the button and let the Lumin do its magic.
Please note that the Lumin UV-C Cleaner will not remove any physical debris from your CPAP equipment. No CPAP cleaner machine can do that. It is important to gently wipe your mask or CPAP humidifier (water chamber) before placing them into the Lumin.
It's a sun in a box 🌞
Being probably the most powerful UV-C light CPAP cleaner currently on the maрket, the 3b Lumin CPAP cleaner kills germs and viruses in just five minutes! No need for water or harsh chemicals – just the sheer power of simulated, focused sunlight in a box.
---
How does UV-C Light cleaning work?
UV-C light cleaning uses ultraviolet light in the "C" band of the UV spectrum, which has a wavelength between 200 and 280 nanometers (nm). This range of wavelengths is particularly effective at killing bacteria, viruses, and other microorganisms.
When UV-C light comes into contact with the DNA or RNA of these microorganisms, it can cause damage to the genetic material, making it impossible for the organisms to reproduce. This effectively kills them and helps to prevent the spread of infection.
UV-C light can be used to disinfect a wide variety of surfaces, including those found in hospitals, schools, and other public spaces. UV-C light disinfection systems can take the form of portable wands or larger units that are installed in HVAC systems to continuously disinfect the air.
It's worth noting that UV-C light can be harmful to human eyes and skin if exposed to too much, so it's important to take appropriate safety precautions when using it, such as wearing protective goggles and gloves. Some UV-C light disinfection systems automatically shut off when someone enters the room to ensure that there is no unnecessary exposure to the UV light. However, with the Lumin, there is no need to do this as the device does not expose any part of the human body to direct UV-C beams — just the CPAP equipment.
It's also worth noting that UV-C light does not penetrate well through certain materials such as glass, other optics or liquids, So, a certain distance of the surfaces from the UV-C light is required to disinfect the surfaces.
Technical specifications
Technical specifications
Weight: 5.5 lbs
Dimensions: 12.25″ L x 8.5″ W x 7.75″ H
Tray Dimensions: 9 1/2″ L X 6 1/2″ W x 4″H
Voltage: 110 VAC (60 Hz) – 220 VAC (50 Hz)
Storage Temperature: 0° – 120° F (-18° – 49° C)
Operating Temperature: 20° – 100° F (7° – 38° C)
Humidity: Up to 93%, non-condensing
Warranty: 2 Years
Frequently Asked Questions about the Lumin CPAP Cleaner
Frequently Asked Questions about the Lumin CPAP Cleaner
Will the Lumin UV light damage my CPAP masks or accessories?
No, the 3B Lumin Cleaner uses UV C Type light to clean CPAP equipment, unlike ozone cleaners that do damage it gradually. Although long periods of UV light might weaken silicone and plastic materials, Lumin exposes the CPAP equipment for only 5 minutes.  This means that for a whole year of daily usage, the Lumin will expose your equipment to UV light for only 30 hours. Scientific studies have found that for a plastic or silicone to get damaged by UV rays, it needs to be exposed for at least 150 hours of direct UV light. This means that you can clean a CPAP mask daily for more than 5 years before it starts to take damage from the Lumin.
What can I clean with Lumin?
While the 3B Lumin CPAP cleaner is designed as a CPAP cleaning device that can sanitize any item you can fit in its inner drawe. You can put any CPAP water chamber (all of Resmed's models) and masks. In addition, you can also disinfect a large variety of personal items, including cell phones, ipods, dentures,  toothbrushes, and many more.
What is the Lumin Bullet?
The 3B Lumin Bullet is a hose cleaner designed for santizing different types of CPAP tubing only. The Lumin Bullet is not a part of the 3B Lumin CPAP Cleaner device and is sold separately.
Reviews (3)
Reviews