Sale!
Philips EverFlo Oxygen Concentrators Kuala Lumpur (Malaysia)
Brand new oxygen concentrator machine model Philips Respironics EverFlo – 5 LPM | Kuala Lumpur (Malaysia).
Kuala Lumpur (KL), the capital city of Malaysia. We supply US- and German-made oxygen therapy machines to Greater Kuala Lumpur (Klang Valley) and the rest of the metropolitan regions in Southeast Asia.
How much do oxygen concentrators cost in Kuala Lumpur (Malaysia)?
The price of oxygen concentrators in Kuala Lumpur (KL) depend on the model and brand. Generally, you can find on the most popular 5 LPM models (Philips Respironics EverFlo) offered for 4942 MYR, although used it could be found for much less. CPAPEUROPA.COM offers the best price for the bestselling EverFlo 5-litre per minute oxygen concentrator.
Direct Express Shipping to Kuala Lumpur (KL) – Malaysia
Until now, oxygen concentrators have been very similar – heavy, bulky, noisy, or requiring frequent maintenance. EverFlo from Respironics is a unique stationary concentrator that delivers what homecare providers want and patients deserve.
Description
Description
Philips EverFlo – Home Oxygen System – Kuala Lumpur (Malaysia)
Kuala Lumpur (Malaysia) – Express Delivery (Map)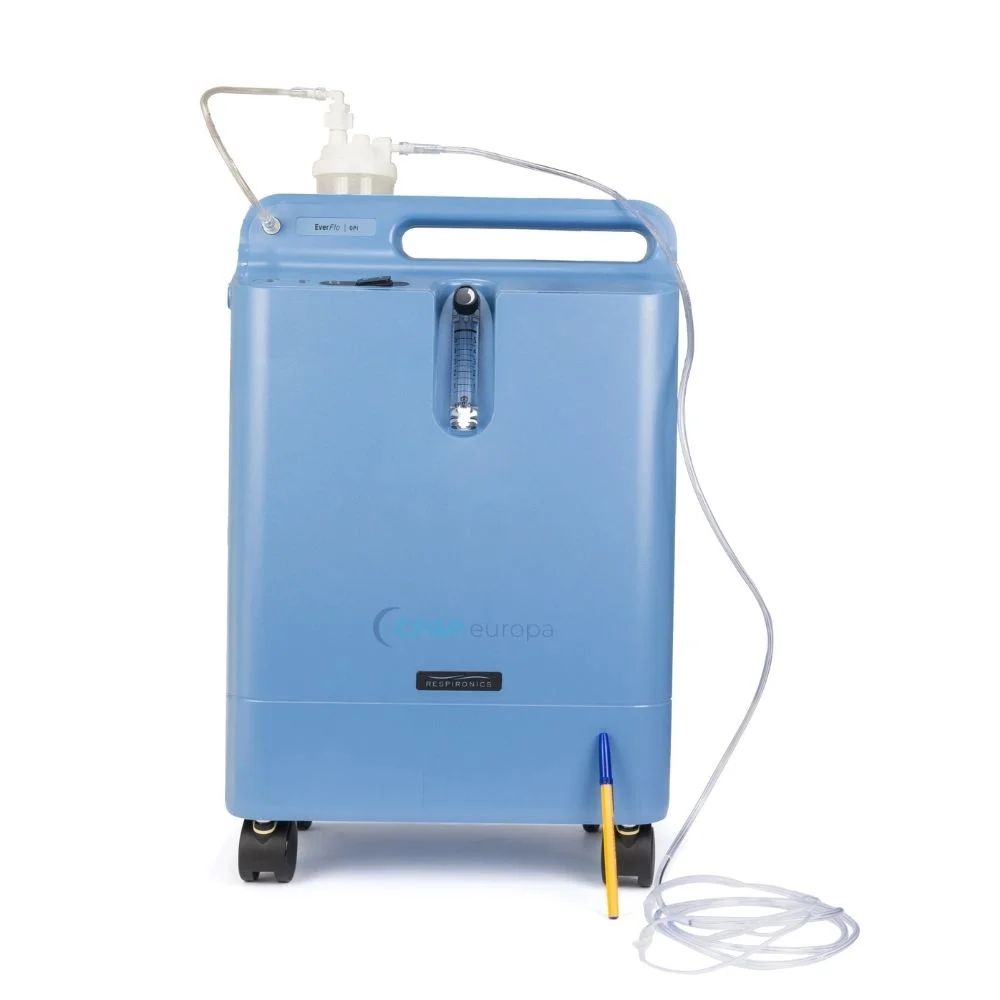 If you are looking to buy  a quiet and reliable oxygen concentrator in KL, you're in luck! The Philips Respironics EverFlo is the answer. This tried-and-tested stationary oxygen machine is now available in Kuala Lumpur to delivers what homecare providers want and patients deserve – easy and reliable oxygen therapy to patients with severe respiratory infections.

Until now, oxygen concentrators have been very similar – heavy, bulky, noisy, or requiring frequent maintenance.
The all so quiet Philips Respironics EverFlo comes with all of the premium features of the original EverFlo Oxygen Concentrator, but in a much quieter model. Producing the impressively low 43 decibels, the EverFlo is currently one of the quietest home oxygen concentrators in Kuala Lumpur.
Quiet operation and compact small, and featuring advanced motor system with low power usage and lightweight, durable construction. If you are looking for an easy, convenient, and very popular oxygen concentrator with an excellent price, then look no further than the Philips EverFlo Oxygen Concentrator (5 LPM).
What is a portable oxygen concentrator?
A portable oxygen concentrator (also called mobile oxygen concentrator) is a lightweight model O2 device designed light and compact enough to be taken in a backpack and provide oxygen therapy on the go. Being much smaller and lighter than stationary oxygen concentrators, a portable one can be taken practically everywhere, even on a plane.
Is the Philips Respironics EverFlo a portable oxygen concentrator?
No. The EverFlo, albeit light and relatively compact, is not a portable device in the true sense of the word. It can be moved around the room thanks to its caster wheel and handle, but the device is not designed as a portable O2 machine. If you are looking for a portable oxygen concentrator, be sure to check this page.
Power Saving & Hassle Free Performance
Ever Flo is carefully engineered every centimeter up to provide continuous, hassle-free performance while supplying the user with pure medical grade oxygen 24/7. The advanced motors deliver 5 LPM of continuous flow oxygen while producing much less noise and heat compared to other stationary oxygen concentrators in the market in KL.
Lightweight

 oxygen concentrator and quality construction 
The EverFlo oxygen concentrator is much less prone to accidental breakage thanks to its recessed flow meter and metal cannula connector. What's more, the internal storage cabinet allows you to store away any extra tubing. EverFlo comes with an easy-to-use humidifier bottle holder with a velcro holding strap. It is compatible with all standard bubble humidifiers (not included in the original package). You can connect the humidifier and the oxygen tubing with ease.
Home oxygen therapy that does not disturb your daily life
Back in the days, home oxygen therapy has always been requiring frequent bottle changes or heavy, noisy concentrators. But that's now in the past. With the Everflo oxygen therapy patients can receive their exact prescribed therapy without the bulky and inconvenient oxygen bottles. What separates the EverFlow from the crowd is its size and weight. Weighing just 31 pounds and built as compact as a stationary concentrator can be, the EverFlo comes in an impressively small and light package, making it easy to use at home wherever you see fit and without disturbing your daily life.
Simple to use and a breeze to maintain
EverFlo interface panel has a simple on/off switch and rotating Flow Meter Knob for easy control without confusing extras. Three indicator lights (green, yellow, red) and audible alarms help ensure your concentrator is working properly.
Features
Compact design looks less like a medical machine
The Philips Respironics EverFlo's ergonomic design takes up less space and doesn't draw as much attention.
Lightweight for easy transport
The EverFlo Oxygen concentrator weighs in at only 31 pounds, reducing shipping and storage costs and risk of injury.
The Right Fit series focuses on patients' needs
EverFlo is part of the Right Fit, a complete portfolio of oxygen products and programs inspired by patients and built for business.
Low maintenance for reduced service costs
No homecare provider filter change for two years. Patients do not ever have to change filters.
Lower power consumption makes EverFlo patient-friendly
The system uses less electricity and produces less heat.
Humidifier Bottle Platform for extra flexibility
The platform is designed to be compatible with all bottle styles and features an easy-to-use closure.
Recessed flow meter reduces accidental breakage
Recessed flow meter reduces accidental breakage.
Oxygen purity indicator option for increased security
EverFlo is available with or without oxygen purity indicator. This OPI (Oxygen Percentage Indicator) ultrasonically measures oxygen output as a purity indication.
Durable metal cannula is less likely to break

Device operation above or outside of the specified voltage, LPM, temperature, humidity and/or altitude values may decrease oxygen concentration levels.
In the box
Nasal Cannula (2 m)
Humidifier
Filters Set
In order to start therapy you only need to supply distilled water for the humidifier. Everything else is included in the box.
Warranty – 2 years
Where to buy an oxygen concentrator in Kuala Lumpur (Malaysia)?
We deliver oxygen concentrators to to the three federal territories of Malaysia and Greater Kuala Lumpur (Klang Valley) even in the light of the current situation with the growing coronavirus cases in the country. To request a quote for bulk orders, please contact us at [email protected] or give us a call +4930 209 931 898.

BUY OXYGEN CONCENTRATORS in MALAYSIA
Resources:
Malaysian Government COVID-19 Portal. Web. 19 July 2021. https://www.malaysia.gov.my/portal/category/362
U.S. Embassy in Malaysia. COVID-19 Information. Web. 19 July 2021. https://my.usembassy.gov/covid-19-information/
Country & Technical Guidance – Coronavirus disease (COVID-19). Web. 19 July 2021. https://www.who.int/emergencies/diseases/novel-coronavirus-2019/technical-guidance
Technical specifications
Technical specifications
| | |
| --- | --- |
| Dimensions | 58.4 cm H x 38.1 cm W x 24.1 cm D (23″ H x 15″ W x 9.5″ D) |
| Input Voltage | |
| Input Frequency | |
| Average Power Consumption | |
| OPI (Oxygen Percentage Indicator) Alarm Levels | Low Oxygen (82%) and Very Low Oxygen (70%) |
| Oxygen concentration* (at 5 LPM) | |
| Liter Flow | |
| Weight | |
| Outlet Pressure | |
| Operating Temperature | 12°C to 32°C/55°F to 90°F |
| Sound level | |
| Storage/Transport Humidity | -34°C to 71°C (-30°F to 160°F) up to 95% relative humidity |
| Operating Humidity | |
| Operating Altitude | 0 to 2286 m (0 to 7500 ft) |
Downloads
FAQ
FAQ
Reviews (0)
Reviews