Sale!
Portable Oxygen Concentrator O2P
(Free EU/UK Shipping)
CPAPEUROPA introduces the O2P Portable Oxygen Concentrator — the smallest and lightest 1-litre concentrator to this date. Boasting a 2.8″color display, 5 pulse flow settings and up to 4 hours battery run time, O2P also is energy efficient, biocompatible, and quick to start up and start providing the desired oxygen flow rate! If you are looking for the ultimate in portability and elegance, O2P is the best choice.
Quiet
Easy to use
Energy efficient
Light
Portable
Description
Description
Portable Oxygen Concentrator O2P
Travelling on oxygen therapy is made easy with the O2P portable oxygen concentrator! Engineered for 24/7 use as the smallest and lightest 1-litre travel oxygen concentrator, this masterpiece of design and functionality combines easy operation and high O2 concentration (90%-3%/+6%) delivered across 5 different flow settings. This portable device features a pulse dose delivery algorithm that senses the patient's breathing pattern from the cannula and adjusts the amount of oxygen flow to meet their specific oxygen needs.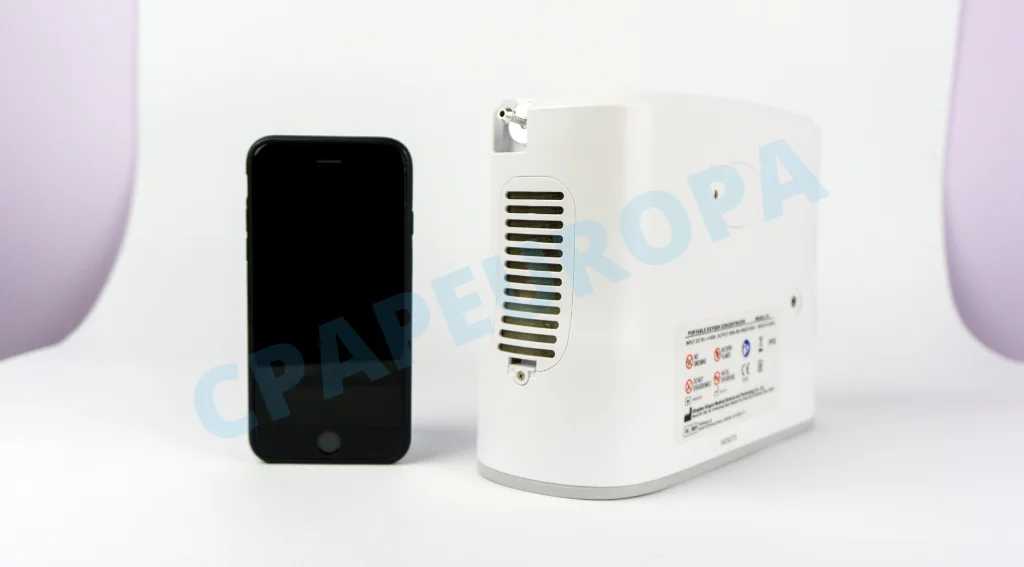 Features
The smallest and lightest 1 Liter mobile oxygen concentrator on the market;
Superior battery life provides 4 hours of continuous operation;
Battery recharge time of 4–5 hours;
Compact and attractive design – smooth edges and hard to damage construction;
5 different oxygen flow settings for every demand;
High O2 concentration: 90%-3%/+6;
Easy to use 2.8 inch LCD display screen showing alarms, device run time, battery level and flow settings;
Pulse dose delivery – adjusts amount of oxygen flow based on breathing rate changes;
Almost maintenance free – only three parts to maintain: battery, pre-filter and intake filter;
Low power consumption at 90 Watts / Hour;
Fast start up time – within one minute of start-up beating industry leading portable models.
Pick up with one hand, carry it over your shoulder
Small size and easy to take with you
Pulse oxygen supply equivalent to a 5 liter continuous flow concentrator
Powerful, Low-Noise Compressor
High efficiency, advanced heat dissipation and long life
6800mA Battery
Meets any O2 demand
5 setting flow
Package includes:
Power cable 100-240 Volts
Battery Standard
Nasal Cannula
Filter
Carry Bag.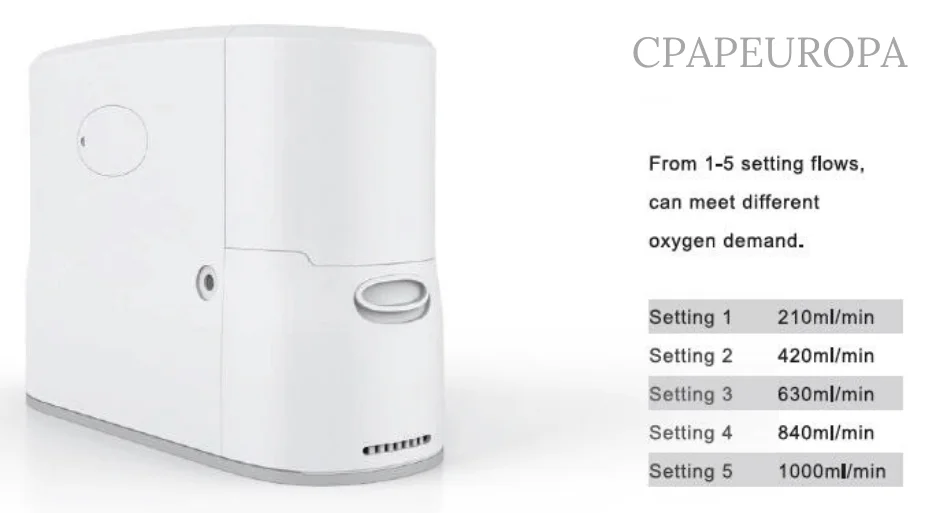 Triple filtration
Triple filtration including a filter, sieve bed and oxygen filter prevents dust, hair, pollen and granule from entering the device. Sieve life is approximately 12 – 18 months.
Simple to use, sleek compact design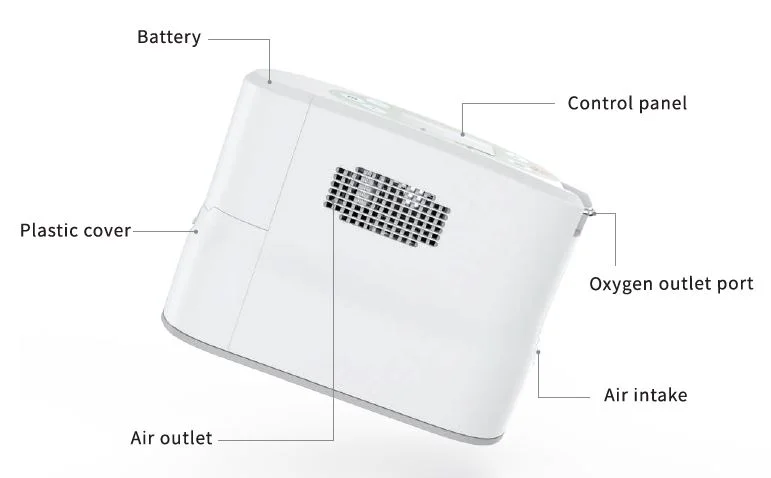 Easy controls and user-friendly LCD screen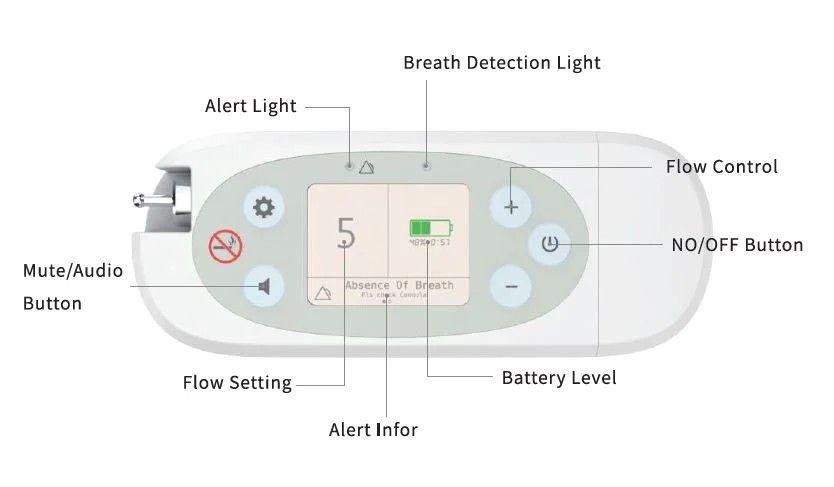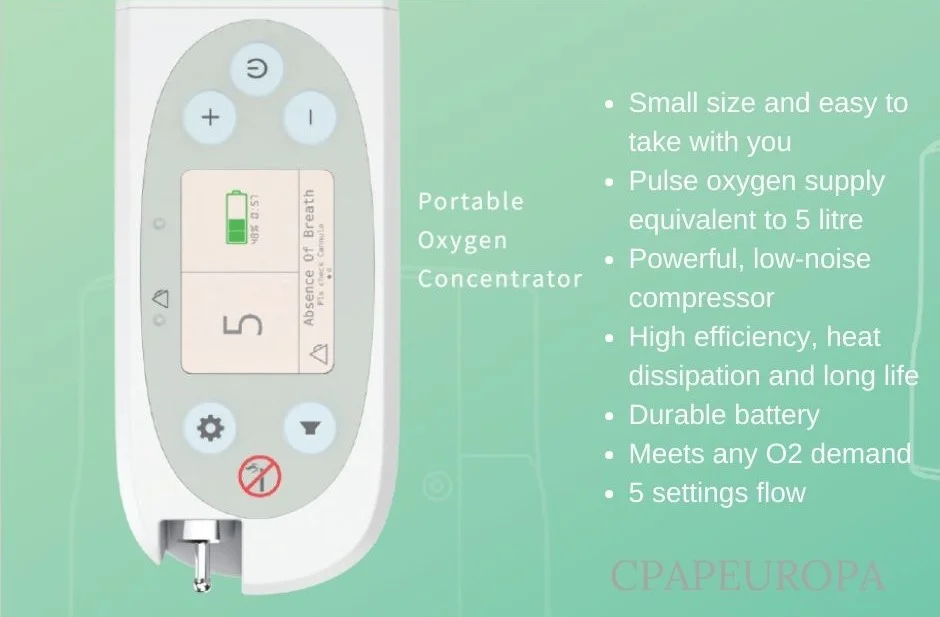 Technical specifications
Technical specifications
Dimensions
L/W/H:8.70in.(22.1cm.)/3.35in.(8.5cm.)/6.30in.(16.0cm.)
Weight
4.34 pounds 1.97Kg ( with battery.)
User Interface
2.8 inch large LCD color display screen
Sound Level
49 dB ( A ) ( on setting 2 )
Warm-Up time
2 minutes
Oxygen
Concentration
90% – 3% /+ 6% at all settings
Breathing
Frequency
10 to 40 BPM
Inspiratory
Trigger
Sensitivity
≤ 0.12 cm H2O
Maximum Outlet
Pressure
25 PSI
Use Mode
Continuous Use
Power:
AC Power supply
Rechargeable Battery
AC Input: 100 to 240VAC 50 to 60 Hz
Voltage: 14.4VDC Rated capacity: 6.8Ah
Battery Duration
Up to 3.5hours
Battery Charging Time
About 5 hours
Environmental
Ranges
Intended for Operation
Temperature: 41 to 104˚F (5 to 40˚C)
Humidity: 10% to 90%, non-condensing
Altitude: 0 to 10,000 ft. (0 to 3048 meters,70kPa to 106
kPa )
Environmental
Ranges
Intended for Shipping
and
Storage
Temperature: -13 to 158˚F (-25 to 70˚C)
Humidity: 5% to 90%, non-condensing
Store in a dry environment
Altitude: 0 to 10,000 ft (0 to 3048 meters,70kPa to 106
kPa)
Transportation
Keep Dry, Handle With Care
Type of Protection
Against Electrical
Shock:
Class II
Degree of Protection
to Concentrator
Components Against
Electrical Shock:
Type BF
Not intended for cardiac application.
Degree of Protection
to Concentrator
Components Against
Ingress of Water
IP22 – Not protected from dripping water. Protected against ingress of solid
objects > 12.5 mm.
Downloads
Downloads
FAQ
FAQ
Q. How heavy is this portable oxygen concentrator?
A. Te Kingon P2 weighs only 1.97kg, making it one of the lightest 1-litre oxygen concentrators ever created.
Q. Does Kingon P2 come with a carry bag?
A. Yes, Kingon P2 comes standard with a comfortable carry bag with a shoulder strap.
Q. How big is the display?
A. The unit comes with a easy-to-read 2.8 inch display that shows setting, breathing alerts, battery level and more.
Q. How big is the battery?
A. Kingon P2 portable oxygen concetrator includes a standard 8-cell 6800 mAh battery.
Reviews (2)
Reviews