The Airmini travel CPAP device (class Portable Continuous Airway Pressure machine) has been around since May 31, 2017, establishing itself as one of the best travel CPAP machine to this day.
Almost every best travel CPAP machine buying guide ranks the Airmini device at the top. The reasons for this being that the Airmini delivered something no other CPAP brand has achieved to deliver, that is, everything a patient needs for a CPAP therapy on the go.
Is the Airmini worth buying in 2020?
Smallest travel CPAP to this date – weighs less than a pound and fits in the palm of the hand;

Features the leading ramp time and AutoSet and AutoSet for Her algorithms;

Unlike the AirSense 10 series, where there are different therapy modes for the different devices, the AirMini includes all three of therapy modes.

Premium quality travel options and comfort settings;

Features the most advanced waterless humidification system (HumidX) compared to other portable CPAPs;

Full and convenient smart device control with the AirMini app and Bluetooth wireless technology.
How much does the AirMini cost around the world?
The price of the Airmini, just with other medical grade equipment, depends entirely on the region where it is available for purchase. Generally, the lowest price for the device is found in the US and stores that offer it in promotional packs/kits, including replacement batteries, carry cases and more.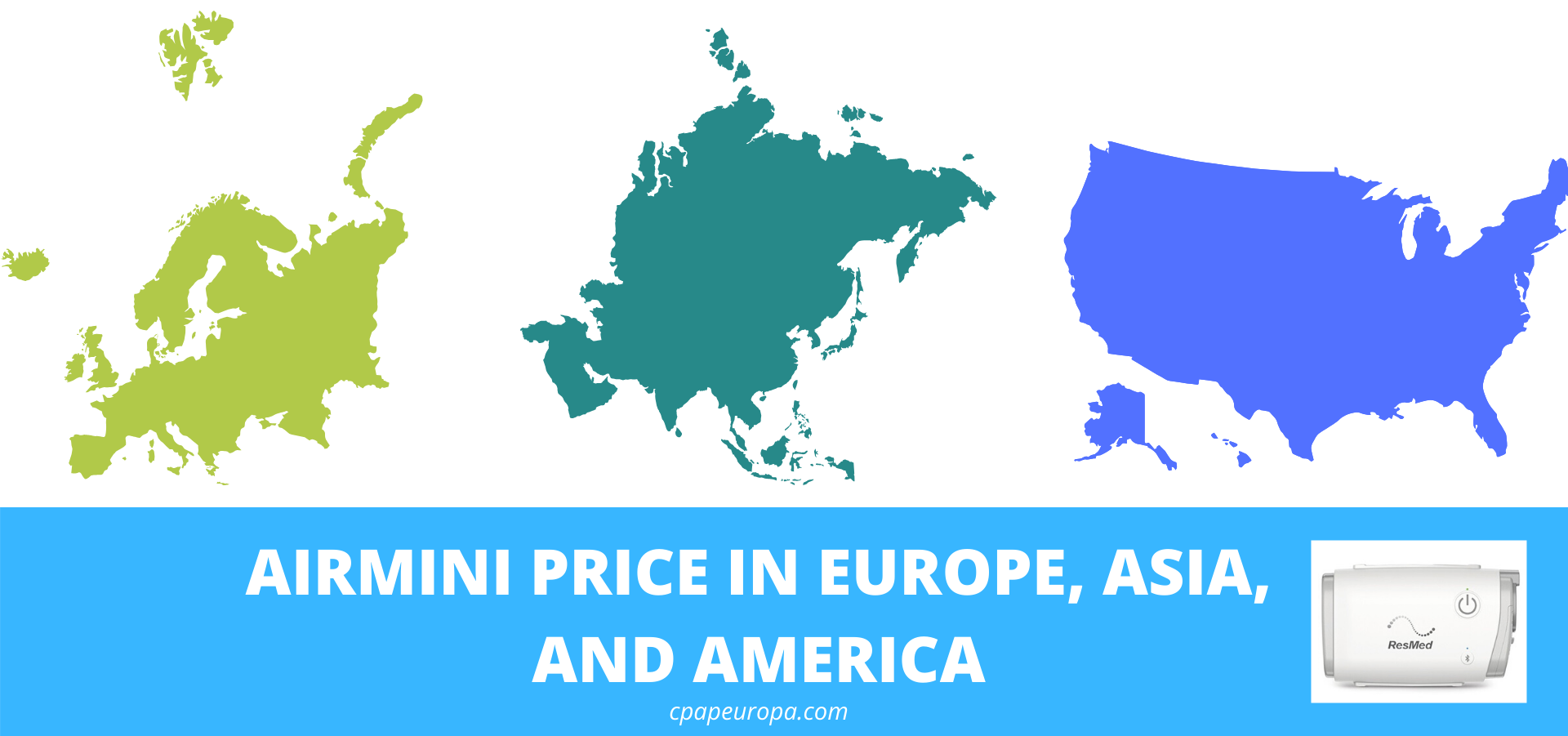 How much does the Airmini cost in Europe?
The price of Airmini in Europe varies greatly. One can order it from anything around EUR 1,300. The best price for the Airmini in Europe, on the other hand, is the current €1060 that CPAP Europa has just launched.
How much will you pay for the Airmini in America?
In the United States, most travel CPAP machines cost between $700 and $1300 (depending seasonal discounts, on seller price policy, and whether it comes in a kit or single unit).
How much is the Airmini travel CPAP in Asia?

The price of Airmini in Asia is also dependent on country and seller. In a pack with the P10 mask, for example, the price of the Airmini is around $2,200.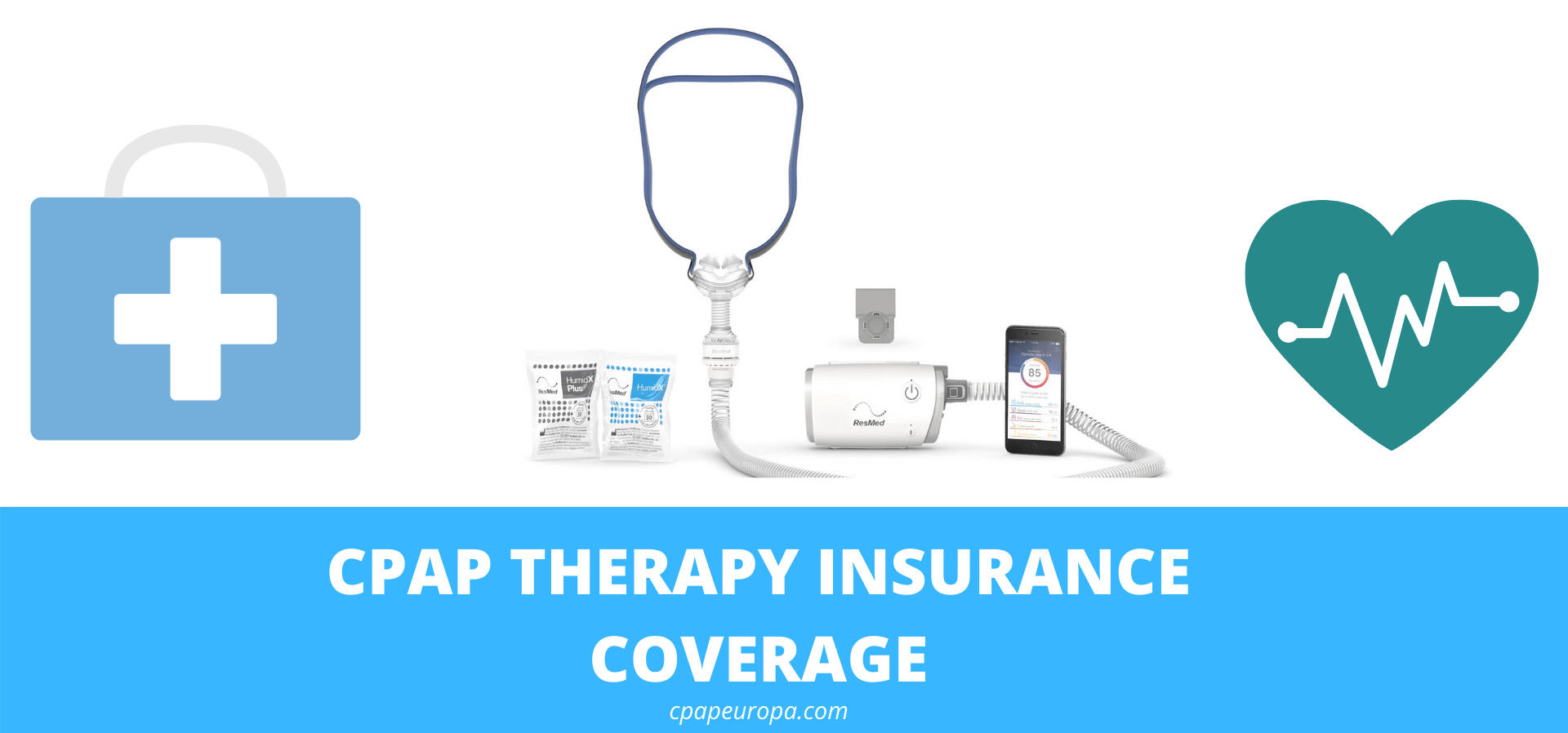 Is the AirMini covered by insurance?
Each country has its own policy regarding insurance coverage of sleep apnea therapy equipment and specifically CPAP machines. In the US insurance might cover the Airmini if it were the primary machine a patient is using. It is not funded by insurance plans if the patient already has a primary CPAP machine and the Airmini is only used as a travel option. Patients can travel with a stationary CPAP so the Airmini is not considered a necessity, hence it may not be covered by insurance.
Can I purchase a CPAP machine without prescription?
You can buy a CPAP machine without prescription, but you'll have to pay for it out of your pocket. In the case of Airmini, however, in most cases you'll have to pay for it out of your pocket if you have a primary stationary CPAP machine and intend to use to Airmini as a secondary one. In either case you need a prescription that comes with a set pressure settings that have been specifically prescribed to you based on the results of  a sleep study.
To learn if you are eligible for an individual coverage by your medical insurance company, be sure to contact them and ask.
Historical price trend of Airmini
Unlike other technology that gradually becomes cheaper throughout the years, CPAP machines rarely do so. From its introduction back in May 2017 to the first quarter of 2020, the price of Airmini has remained almost the same across the global markets. The only Airmini deal one can hope for is when its regular price is discounted.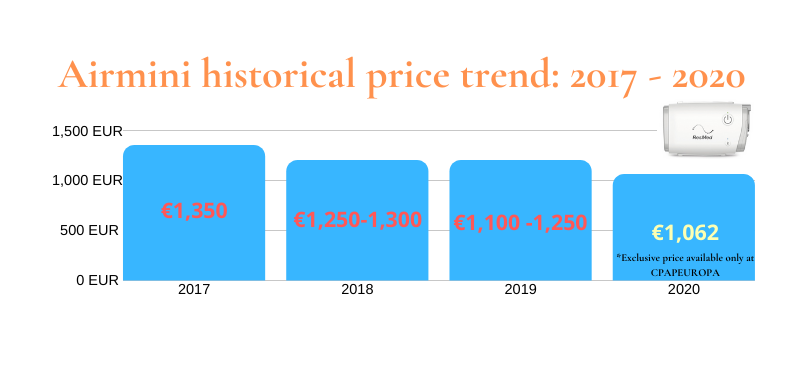 How many compatible mask are there for the Airmini?
AirMini comes with a cloth carry case and a power cable. Masks and tubing are available for purchase separately. There are exactly four compatible masks designed to work specifically with the Airmini (not included in the price). These include:
The AirFit™ F30;

The AirFit™ F20;

The AirFit™ N20;

The AirFit™ P10 for AirMini;

The AirTouch™ F20.
Please note: other masks are not compatible with the AirMini's humidX and ActiveAir technologies. 
In addition, there is the Airmini setup pack, including compatible power supply, filter, hose, setup pack, travel case, and a N20 mask.
Why invest in Airmini instead in other mobile CPAPs?
AirMini is for those of us looking for the absolute best in what modern CPAP therapy has to offer in 2020. No other global brand can boast the stats of Resmed in that regard, having more than 25 years of history in sleep apnea treatment solutions.
The Airmini epitomizes Resmed's pursuit of perfection and unique user experience. To do so the Australian-based manufacturer has taken the same technology used in the bestselling AirSense 10 CPAP and "shrunk" it to fit in a 300-gram device.
A complete CPAP solution no matter where you are 
Being engineered as an integrated system when combined with the right mask, the AirMini delivers a complete sleep apnea solution for sleep therapy on the go. Choose a compatible mask and you are all set for your next outdoors adventure or business trip cross sea.
Is the Airmini allowed aboard a plane?
Yes, the Resmed Airmini is air travel ready, so sleep apnea patients are allowed to take it aboard an airplane.
You can also bring a standard CPAP machine on a plane since they are classified as medical devices. So it doesn't matter if it is a standard CPAP or a portable one. Please note, however, that in order to have access to a power outlet you need to be seated in the first or business class.
Great CPAP flying tips for travelers with obstructive sleep apnea:
Bring your CPAP prescription from your doctor and pack it in your CPAP case/carry bag;

Bring your CPAP machine in its case as carry-on;

If possible, pick a seat that has access to power and bring an adapter along with your CPAP machine;

Remove your CPAP from your luggage before going through security;

Turn the humidifier off before packing the CPAP;

Turn on airplane mode (if your CPAP machine has it).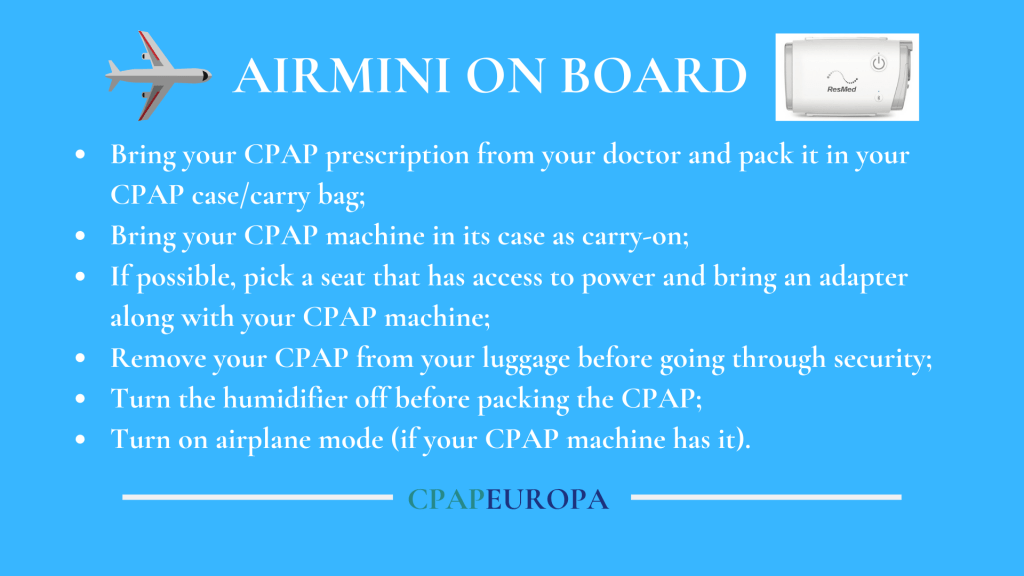 Before packing your travel CPAP:
Reconfirm that CPAP machines are allowed on the airport by reviewing the medical conditions section in the airport's security page. Download and pack the FAA Compliance Letter with your CPAP (just in case you have to explain why you need to bring along this type of equipment on the plane).

Where is Airmini available?
The AirMini is available to European CPAP users through home medical equipment (HME) providers, such as CPAPERUOPA. Licensed distributors of CPAP medical equipment offer the Airmini for purchase to almost every country on the continent.
More about Resmed TM
ResMed 25 Year Stock Price History
Historical daily share price chart and data for ResMed since 1995. The latest closing stock price for ResMed as of January 24, 2020 is 162.39.
The all-time high ResMed stock closing price was 164.38 on January 22, 2020;

The ResMed 52-week high stock price is 165.00, which is 1.6% above the current share price;

The ResMed 52-week low stock price is 90.64, which is 44.2% below the current share price;

The average ResMed stock price for the last 52 weeks is 125.49.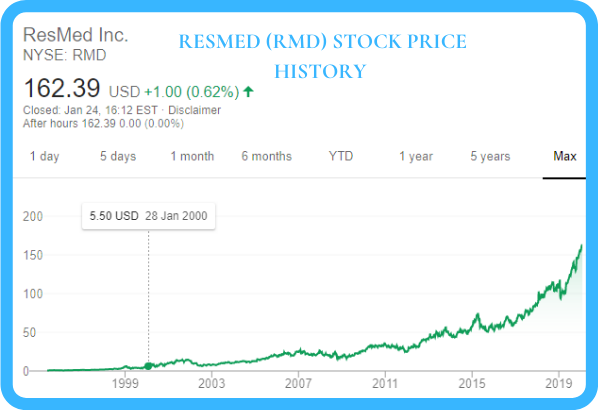 Back in 2017 the Resmed-made device was the smallest portable sleep therapy solution for people who need constant air therapy, no matter where they are – at home, on a vacation, on the plane, etc (it could be taken even in space for that matter).
Did you know