Sale!
ResMed AirMini Auto CPAP Machine
(Free EU/UK Shipping)
The world's smallest automatic CPAP device from ResMed (Australia)
It goes wherever you go. It is controlled by an App. It is easy to use. And it looks absolutely amazing. This is the ResMed AirMini, but you probably have already heard a lot about it. Especially if you are after the latest and best in sleep apnea treatment.
AirMini seasonal bargains at our CPAP store are aimed at offering our traveling customers the best in travel sleep apnea equipment at the best price online! 
Please note: HumidX waterless humidifiers are sold separately.
AirMini is also available in BUNDLES!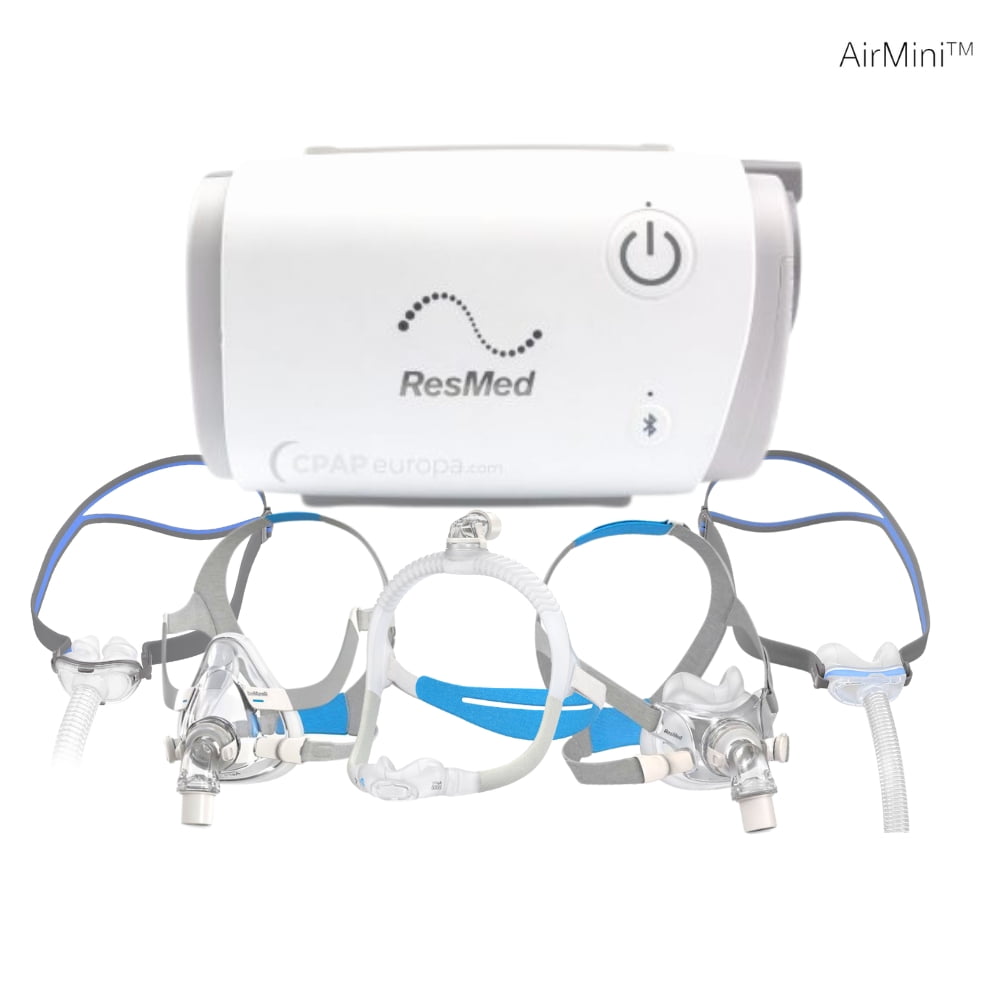 ResMed AirMini CPAP + Compatible Mask BUNDLE
Description
Description
ResMed AirMini Auto CPAP Machine
Introducing the smallest CPAP machine in the world, the ResMed AirMini. Small in size but loaded with a full range of features, the AirMini sets a new standard in the market of portable CPAP machines.
The world's smallest automatic CPAP device and probably one of the best CPAP machines ever created, the AirMini portable CPAP has become a must-have companion for people suffering from sleep apnea who travel frequently and have an active lifestyle. AirMini weighs just 300 grams and gathers in the palm of the hand! Yes, it is that small.
Almost always the front runner in "the best portable CPAP machine" lists for 2020, AirMini is not going anywhere when it comes to sleep apnea solutions specifically designed for user convenience, portability and effective therapy!
The AirMini is available with a sleek and comfortable travel bag (extra accessory) that brings together the camera, mask, hose and charger makes the trip a real pleasure.
The device offers extremely quiet and comfortable therapy, which is almost no different from standard automatic therapy. AirMini works with one of the most popular Masks of ResMed (AirFit N20, F20, P10) and even offers innovative air humidification technology through a special moisturizing filter.
Algorithm
The AirMini can work in both standard and automatic mode, which does nothing to the bigger AirSense 10 Autoset. During therapy, the device delivers an alternating pressure that increases with detection of a respiratory event (sleep apnea, constraints in the flow or snoring) and decreases with normal breathing to provide maximum comfort during sleep. Reliable control through the special AirMini application!
Functions
Ramp – gradual increase in pressure for easy sleep;
EPR – easier exhalation by pressure reduction;
Auto Start / Stop – Automatically initiate therapy with inhalation detection.
Mask compatibility:
AirFit F30, AirFit F20, AirFit N20, AirFit P10 and AirTouch F20.
BUILT IN HUMIDIFIER
REMOTE ACCESS TO SLEEP DATA
EPR TECHNOLOGY FOR PRESSURE RELIEF
AUTO START AND ADJUST!
AirMini full list of features:
Innovative HumidX waterless humidification system. It is both comfortable and convenient for travel;
Easy to use and connect to your Smartphone thanks to the AirMini App;
Unbeatable performance and quality therapy – trademark features of ResMed;
One Start / One Stop button allow for one-hand operation;
AirMini App allows you to customize your therapy comfort to your individual needs;
View your treatment data and track sleep apnea events and overall progress.
What is EPR Technology and how it affects your therapy?
The Resmed EPR technology is a special algorithm that sets the AirMini to the lowest pressure possible during exhalation to significantly reduce discomfort. Combined with the AutoRamp setting, the device starts the CPAP therapy at a low-pressure setting and then gradually increases it to the doctor-prescribed pressure levels. This makes it significantly easier for the user to fall asleep.
PLEASE NOTE: ResMed AirMini is compatible with AirFit P10 Nasal Pillow Mask, N20 Nasal Mask and the F20 Full Face Masks masks only!
The AirMini is available with a range of accessories of your choice, making it easy to satisfy your personal preferences!
Reliable control and management
The AirMini travel CPAP and all its settings are easy and convenient to use with the AirMini app (available for iOS and Android) installed on a smart device – phone or tablet. The app provides access to the record of the last therapeutic session as well as the aggregate data for the last 30 days.
HumidX



ResMed's innovative approach to developing one of the most advanced humidification systems led to an entirely new technology for humidification for the purposes of CPAP therapy. ResMed's pursuit of the most compact humidifier led to the replacement of the standard humidifier with a brand new system for humidifying the air, based on a filter using the moisture generated by the exhalation.
Auto-Adjusting Pressure
In order to save you time and money, the AirMini comes with ResMed's patented AutoSet technology. AutoSet samples your breathing pattern and auto-adjusts the device for the lowest pressure needed to treat events. This way you won't need to go to your doctor in order to re-adjust the pressure, as AirMini adjusts it for you! So if you are looking to save time and money, look no further than AirMini!
Portable CPAP accessories
To make your traveling easier than ever, the AirMini is not only tiny, light and discreet, but also eliminates the need of bringing along a humidifier, with the HumidX™ component being integrated into the N20 and P10 CPAP tubes. Your new AirMini™ is available with a hard shell case and a travel bag that can be purchased separately to protect the device.
Masks compatibility
Compatible with AirMini are the following mask models
The ultimate travel CPAP device for sleep apnea treatment
The ResMed AirMini is often dubbed "the best travel cpap" ever to be introduced on the market! This superior auto-adjusting CPAP machine is available with CPAP (fixed pressure) APAP (automatic) and APAP for Her modes. At the core of its algorithm are the same mechanisms that power ResMed's AirSense CPAP machines. It comes with features such as EPR, Smart Start/Stop and AutoRamp. As you may have noticed, this portable CPAP doesn't have a screen; it is managed through the AirMini smartphone app, which can activate the machine, update its settings, manage its comfort options and directly monitor your sleep patterns and sleep apnea events.
This travel CPAP (also called "portable" or "mobile CPAP") comes with advanced features such as EPR, Smart Start/Stop and AutoRamp.
In addition, the AirMini portable CPAP doesn't have a screen. Instead, you control your CPAP more effortlessly through the AirMini smartphone app. The app can activate the device, update its settings, manage its comfort options and directly monitor your sleep patterns and sleep apnea events throughout your therapy.
The AirMini travel CPAP device is constructed of only 3 parts
The AirMini CPAP Core – measuring only 11 x 25 x 15cm and weighing only 300 gr!
Set up Packs – tubing, mask connector, and water-less humidifier (HumidX);
Mask – several different masks of your choice are available to use with the AirMini.
In the box
ResMed AirMini Auto CPAP Machine;
Charger.
Additional equipment (sold separately)
Transport bag;
Mask;
Moisture filter;
Tubing;
Hard carry case;
A bed / wall / bed locker system.
An award-winning combination of minimalist design, portability and reliability, the AirMini boasts the same advanced features of the AirSense 10!
It is remarkably quiet, energy-efficient and comfortable to use, making it the ideal travel companion on your next travel adventure.
AirMini combines minimal design with the reliability of the proven ResMed algorithm, using all the benefits of AirSense 10.
Technical specifications
Technical specifications
| | |
| --- | --- |
| SKU / Product code range | 38113 |
| Manufacturer: | ResMed |
| Built-In HumidX Humidifier | Yes |
| Power Consumption | 6.3 W |
| AC input range | 100-240V, 50-60Hz, 0.5-0.3A; 115V, 400Hz for use on an airplane, 0.4A |
| DC output | 24V 0.83A |
| Power Consumption | 27 W |
| SD Card | Inserted in Machine |
| Distant monitoring | Yes |
| Power consumption in standby mode | 1 W |
| Operating temperature | + 41 ° F to + 95 ° F (+ 5 ° C to + 35 ° C) |
| Humidity | 10 to 95% relative humidity |
| Altitude | up to 8,500 '(2,591m); range of air pressure 1013hPa to 738hPa |
| Storage temperature | -13 ° F to + 158 ° F (-25 ° C to + 70 ° C) |
| Storage humidity | 9 to 95% relative humidity |
| Air filter | Polyester non-woven fiber; Average resistance:> 75% test according to EN779 |
| Dimensions | 136 mm (W) x 84 mm (D) x 52 mm (B) |
| Weight | 300 grams |
| Air outlet | 16 mm internal diameter |
| Required tube length | 1.9 m, internal diameter – 15 mm |
| Wireless technologies | Bluetooth connectivity |
| Link type | SPP, iAP2, GATT |
| Working pressure range for CPAP, Auto CPAP and Auto CPAP For Her | 4 to 20 cm H2O |
FAQ
FAQ
Q. Can I take my AirMini on an airplane?
A. Yes, being FAA approved, the AirMini can be brought on an airplane as hand luggage.
Q. Can I use any mask with the ResMed AirMini?
A. Unfortunately, no. Only 3 compatible masks can be used with AirMini: AirFit P10 Nasal Pillow Mask,
N20 Nasal Mask, and F20 Full Face Masks.
Q. Am I required to download the AirMini app in order to fully benefit from AirMini?
A. No, but it is highly recommended that you do so. This way you can control a range of control settings, read your personal score every morning, and track your last 30 days' progress.
Q. Is there a smaller CPAP machine than the AirMini.
A. No, the AirMini currently holds the 1st place in the smallest CPAP machine in the world race.
Q. How loud is AirMini?
A. AirMini's sound output level is in the range 30-38 dBA, which is not as quiet as a full sized CPAP machine, but is still quieter than competitor devices from other brands.
Dowloads
Dowloads
Reviews (5)
Reviews