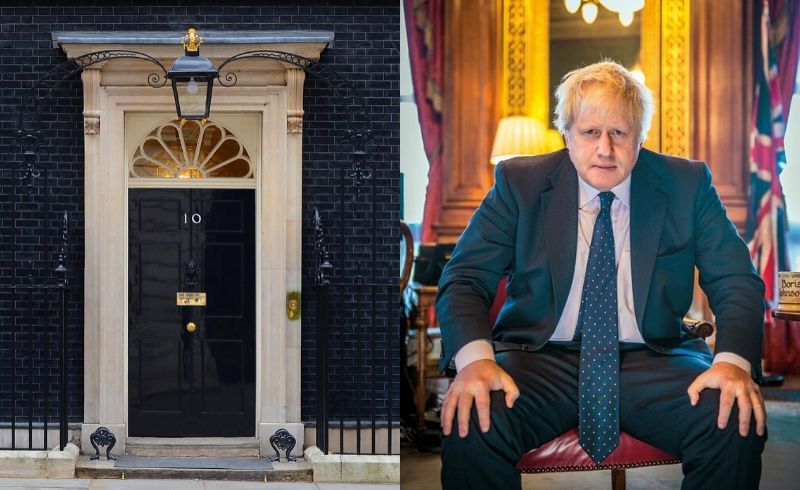 Boris Johnson returns to Downing Street to lead Coronavirus response
British Prime Minister Boris Johnson is back to Downing Street to take charge of the response to the coronavirus outbreak.
Mr Johnson is to chair the regular morning cabinet meeting on the Coronavirus pandemic and later talk to government officials and ministers.
The Prime minister entered No 10 on Sunday evening after Tory MPs began pressuring him to lift the lockdown.
Is this the time to ease up?
Health Minister Edward Argar announced that, accordding to him, "now is not the time to ease up" despite the growing discontent voiced from the British public.
According to the latest date, the official figures of Coronavirus deaths in UK hospitals is 20,732.
Is Boris Johnson fully recovered?
One month after Mr Johnson was told he had COVID-19 and a week in St Thomas' Hospital, the Prime Minister is back to Downing Street to resume his full-time duties and meet with senior ministers.
It is still uncertain whether Mr Johnson will lead the press briefing scheduled for Monday, but would be undoubtedly impressive to see him do so after recovering from COVID-19 and spending three days in intensive care.
Last night, on the advice of my doctor, I went into hospital for some routine tests as I'm still experiencing coronavirus symptoms. I'm in good spirits and keeping in touch with my team, as we work together to fight this virus and keep everyone safe.

— Boris Johnson #StayHomeSaveLives (@BorisJohnson) April 6, 2020
---
In other news:
Elon Musk says he sent ventilators to California hospitals, they say they got CPAP and BiPAP machines instead
"We received six CPAPs and we are very grateful for the gift," said a spokesperson for Sonoma Valley Hospital. Another Californian hospital Mammoth Hospital also said it received 10 bilevel machines from Tesla. "They're not full ventilators but there are lots of people that need breathing assistance," a spokesperson said, calling the donation "very gracious."
Los Angeles County officials said they received from Tesla 100 bilevel units manufactured by ResMed in late March. The Resmed devices have been donated to US hospitals and are being used as intended. These units are used for breathing and airway support, reducing the need for certain patients to be placed on mechanical ventilation.
---
To ease or not to ease?
Whether to ease to lockdown or to extend it is a question the public expects answered without further delay, most likely in the next few days.
Limits on daily life were enforced on 23 March, with the public asked to stay at home, businesses asked to temporarily shut down and people asked to avoid  gatherings of more than 2 at time.
Currently, all ministers are obligated by law to make assessments on whether the strict rules are having the desired effect every three weeks. Next Thursday (7 May) the next evaluation will take place.
Social distancing across the UK
The current social distancing measures have caused the frustration of a large number of UK citizens, many of whom are wondering when the lockdown will end. Supermarkets have remained open as long as social distancing inside are followed.
Avoiding the second wave is top priority
China has already expecting a second wave of the pandemic as Beijing takes steps to stop a recurrence of the first COVID-19 wave. The most important decision of Mr Johnson and his team is how and when to gradually remove the lockdown announced on 23 March.
The ease off of restrictions needs to happen due to the severe economic harm and the massive strain on the NHS to handle the outbreak.
Many fear that a second COVID-19 wave would be far more deadly than the first one which makes the decision when and how to lift the lockdown a crucial point in the current situation.
Frances O'Grady, head of the umbrella group for unions the Trades Union Congress (TUC), expressed his opinion that social distancing must continue even when the lockdown is no more. Mr O'Grady also said that risk assessments in every workplace and safe transport should also remain present whether or not lockdown continues or nor.
Foreign Secretary Dominic Raab said on Sunday that social distancing would remain for "some time" in the UK and that restoring the normal way of life cannot be prolonged for too long.
What happens around the world?
Meanwhile, countries like Belgium, Germany and Denmark have expressed their intention of partially re-opening some businesses and schools.
Professor Stephen Powis, the NHS England medical director, shared during the daily No 10 briefing that: "My fear is that those curves won't continue to be on a downward trend, but will start to go on an upward trend. We are not at a point where any of us can be absolutely confident that that's not going to be the case."
Meanwhile, Mr Raab insisted the government continue to fulfil is daily target of coronavirus 100,000 tests.
The end of lockdown will be decided by tests
Priti Patel has said that removing the coronavirus restrictions across the country will not be a binary choice and that the government would not give a date for the end of lockdown. The home secretary added that five tests will have to be met before schools can reopen but said giving a date 'would be irresponsible and get hopes up'