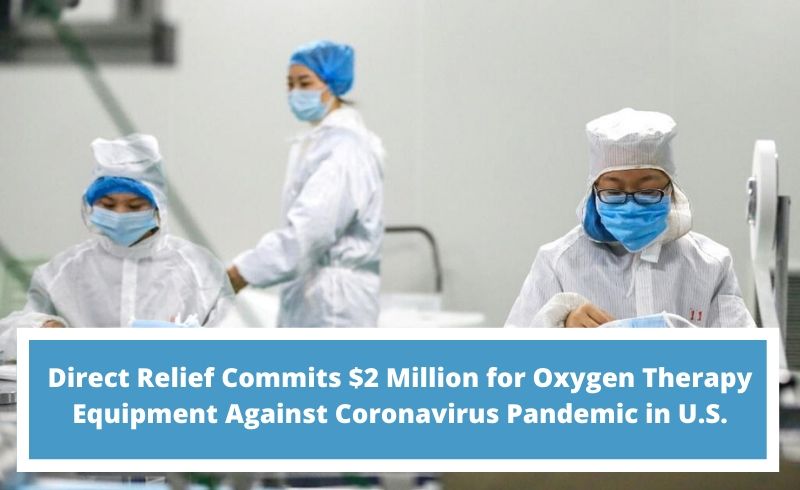 Direct Relief is giving away $2 million for Inogen oxygen concentrators for coronavirus response
Financial assistance of $ 2 million was committed by the American humanitarian organization Direct Relief for the purchase of oxygen concentrators Inogen. In addition to the financial help for oxygen concentrators to treat patients with the new coronavirus, the organization has also ordered protective equipment and masks against COVID 19 in the United States.
Funds are being allocated to improve inventories and critical care equipment in an effort to emergency financial support for non-governmental health care facilities and to support public health efforts by state and local public health agencies.
Mobile oxygen concentrators to fight the coronavirus in China
In a response to the critical situation with the coronavirus in China and requests from Chinese hospitals treating tens of thousands of patients with Covid-19,  500 portable oxygen concentrators are to be sent to the country to help patients who may need it during recovery from Covid-19.
On February 25, senior U.S. government officials warned that Covid-19 was likely to spread to the United States. And they were right. On February 26 the first case of coronavirus transmission from a person to person after return from travel was reported in the US.
As frontline health workers are the most exposed to the new coronavirus, protecting them is a major public health priority and a major focus of financial aid. Medical staff accounts for 3.8% of confirmed cases in China and 14.8% of cases classified as severe or critical. While the overall coronavirus fatality rate has been reported to be 2.3%, it is 14.8% among patients aged 80 years and older.
The good news for US health services is that the vast majority of infections are considered to be mild so far. "Probably over 80 percent are mild," reports Dr. Deborah Fuller, professor of microbiology at the University of the Washington School of Medicine. .
<<< MOBILE OXYGEN CONCENTRATOR INOGEN G3 >>>

Viruses like COVID-19 are not uncommon
Every year, we are exposed to a number of respiratory viruses and other coronaviruses. There are at least six other types of coronaviruses that have been in the population since the 1960s. They cause a common cold, and we go through them every year. We also go through flu epidemics every year.
Flu viruses mostly affect the elderly and people with weak immune system. These two groups are usually more susceptible to respiratory diseases and common colds. So the coronavirus case is no different from what we have seen with previous flu viruses.
How to know if you are infected with Covid-19 and not just common flu?
The symptoms of COVID-19 are the same as ordinary flu. To know for certain that it is the new coronavirus, a test for COVID-19 must be performed.
If suspect that your symptoms are resembling the symptoms of the new coronavirus desease, you should call your doctor!
What are the main symptoms of the new coronavirus (COVID-19)?
If you notice …
Respiratory symptoms
Fever
Cough
Shortness of breath and breathing difficulties
Muscle ache and pain
… these could be symptoms of something more serious than the common cold.
Flu, cold or coronavirus?
Before jumping in your car and going to see your doctor with a coronavirus scare, make sure you have the flu symptoms, and symptoms of a common colds. Hospitals are cluttered with potentially infectious patients and are a great place to catch a virus if you haven't already.
IMPORTANT: If you are experiencing flu or coronavirus symptoms, or have been in contact with a person who has traveled to a COVID-19 outbreak area, be sure to tell your doctor as soon as possible.
Related articles: Oxygen Concentrators for Ozone Sauna
Sources: Direct Relief