Alpha-Stim AID CES Therapy Device – Cranial Electrotherapy Stimulator (CES)
€ 995.00
The Alpha-Stim AID safely and effectively improves mood and sleep, including relieving pain, headaches, anxiety, insomnia, and depression among other conditions (see full list below). This proven, non-drug medical device is fast, safe and easy-to-use, with no lasting side effects and no risk of addiction.
Package does not include the Conducting Solution.
Description
Description
Cranial electrotherapy stimulation (CES) for anxiety, insomnia, PTSD and depression
Alpha-Stim® AID is an FDA cleared, handheld medical device that is proven safe and effective for the treatment of anxiety, insomnia, PTSD and depression. Alpha-Stim uses cranial electrotherapy stimulation (CES) to deliver a patented waveform via two earclip electrodes. Treatments typically take 20 minutes and can be done in the comfort of your own home while doing normal, everyday activities. Relief is often immediate and treatments are cumulative. While we suggest daily treatments until you have a noticeable decrease in symptoms, they can be done 2-3 times a week for maintenance or as needed. The safety and effectiveness of Alpha-Stim is backed by over 100 independent clinical research studies. Unlike with medications, there is no risk of addiction or lasting side effects.
Alpha-Stim can be used for the following conditions:
Pain (all cases);
Back pain;
Pain in the neck;
Leg/foot pain;
Shoulder/arm pain;
Arthritic pain;
Temporo-mandibular joint pain;
Myofascial Pain;
Sympathetic Dystrophy Reflex;
Fibromyalgia (only);
Fibromyalgia (with others);
Migraine;
Headache(other);
Mental disorders (all cases);
Anxiety (only);
Anxiety (with others);
Anxiety/Depression;
Depression (only);
Depression (with others);
Chronic Fatigue;
Insomnia.
How does Alpha-Stim AID CES device work?
Your brain naturally has electrical currents. The Alpha-Stim AID device uses cranial electrotherapy stimulation (CES) to safely and effectively relieve your anxiety, insomnia, and depression.
The device delivers a natural level of micro-current, via small clips worn on your earlobes, through the brain to stimulate and modulate specific groups of nerve cells. The micro-current is tiny, just millionths of an ampere, and so gentle that most people don't even feel it. The patented Alpha-Stim waveform, application, and protocols result in significant anxiety relief, mood normalization, and better sleep (both in quality or duration).
Treatments take only 20 minutes and you can use Alpha-Stim in the privacy of your own home or take it to work with you. The device is portable and the earclips are unobtrusive; you'll look like you're just listening to music.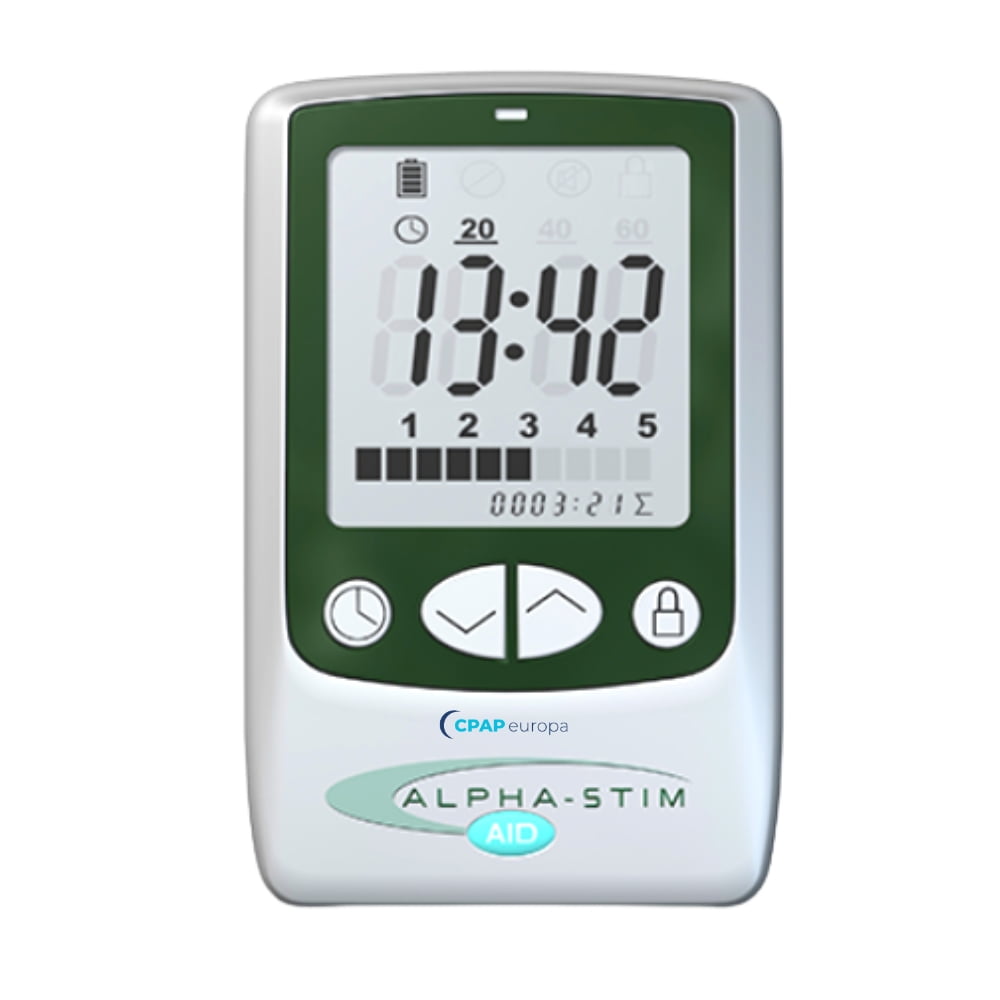 Is Alpha-Stim CES Therapy Device Safe?
Alpha-Stim has been prescribed around the world by physicians and other healthcare professionals to effectively treat mood and sleep disorders stemming from anxiety, insomnia, and depression. Since 1981, Alpha-Stim has helped hundreds of thousands of people achieve remarkable results. The Alpha-Stim electrotherapy device delivers lasting results for pain, depression, and anxiety without dangerous side effects, tolerance, or addiction. In 30+ years and clinical studies involving over 8,800 people, Alpha-Stim users have reported no serious side effects. The two most common side effects were headaches (0.1%) and skin irritation at the electrode sites (0.07%), only seen in fair-skinned people.
Alpha-Stim is safe of clinically proven and FDA approved
Alpha-Stim is supported by over 140 completed independent research studies and published reports that utilize the most rigorous, controlled clinical study methods. Again and again, the Alpha-Stim electrotherapy device has proved to quickly and safely provide relief from anxiety, insomnia, and depression.
Do you need a prescription to buy Alpha-Stim AID?
A prescription or order from a licensed healthcare professional is required to purchase this device (within the USA). Talk with your doctor or licensed healthcare professional to get a prescription today.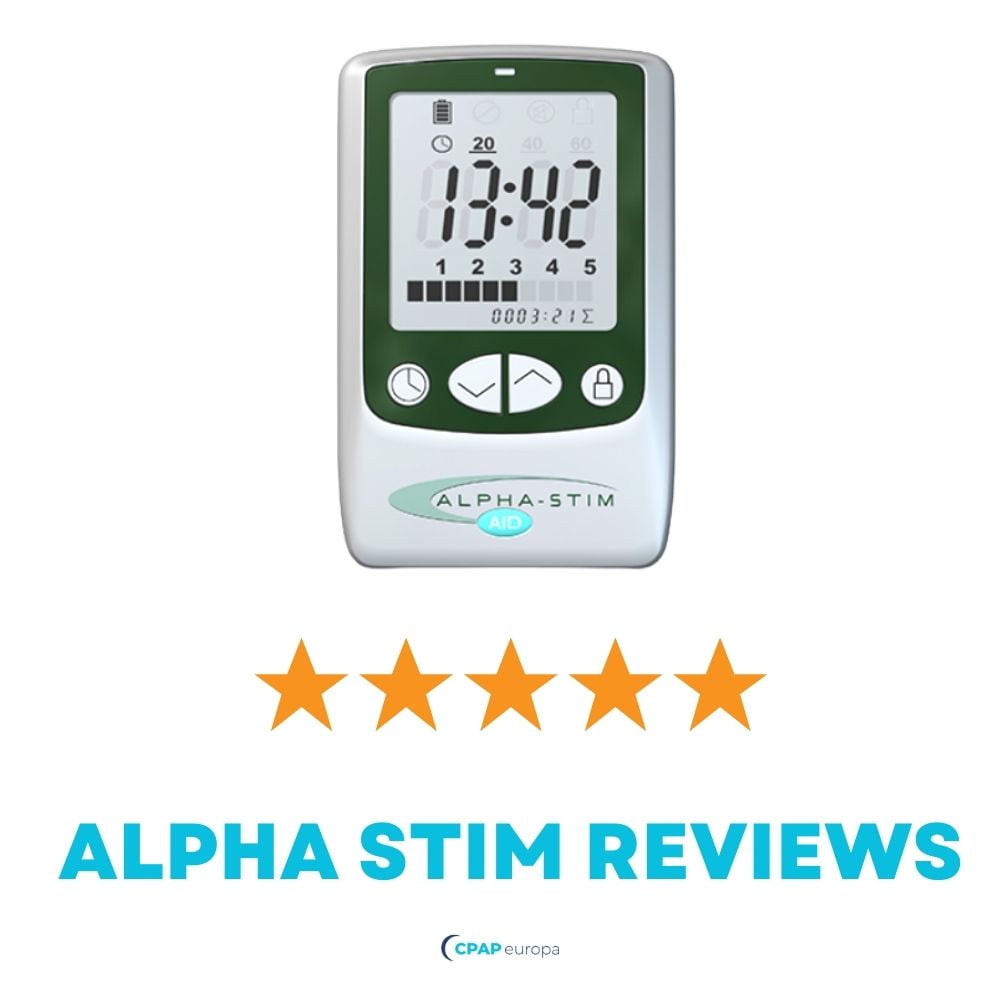 Unboxing
Unboxing
How to use the Alpha-Stim AID
How to use the Alpha-Stim AID
Manual
Reviews (9)
Reviews