Sale!
Philips EverFlo Oxygen Concentrator – Singapore
€1,700.00
Brand new oxygen concentrator machine: Philips Respironics EverFlo – 5 LPM for sale in Singapore
Use the "Shop Now" button to add your Oxygen Concentrator in the cart and use the checkout page to finalize your order. Use PayPal if you need your order to be shipped immediately after purchase. As long as we have stock of oxygen concentrators left, CPAPEuropa will keep this page active for shoppers in Singapore. If you have questions about bulk orders and delivery times, please do not hesitate to ask us in the chat. We are here to help! Stay safe and happy shopping!
Is this oxygen concentrator right for you?
The EverFlo listed on this page for sale in Singapore is a US-made bestseller used primarily for severe respiratory conditions that require oxygen therapy at home or in a hospital setting. The EveFlo is a 5-litre per minute oxygen machine, which means that it delivers up to 5 litres of pure oxygen to the paitent's lungs per minute. The machine is designed extra lightweight and reliable. And, it each Philips Respironics EverFlo can be connected to another one to create a 10-LPM setup if needed. If you prefer to buy a 10 LPM machine in Singapore, instead of two 5-LPM units, then make sure to check out our dedicated heavy-duty 10-litre oxygen concentrator, which is also currently discounted.
How much do oxygen concentrators cost in Singapore?
The price of oxygen concentrators in Singapore depend on the model and brand. Generally, you can find on the most popular 5 LPM models (Philips Respironics EverFlo) offered for 1583 SGD, although used it could be found for much less.
Direct Express Shipping to Singapore
Until now, oxygen concentrators have been very similar – heavy, bulky, noisy, or requiring frequent maintenance. EverFlo from Respironics is a unique stationary concentrator that delivers what homecare providers want and patients deserve.
Description
Description
Philips EverFlo – Home Oxygen System – Singapore 
Singapore and Malaysia – Express Delivery (Map)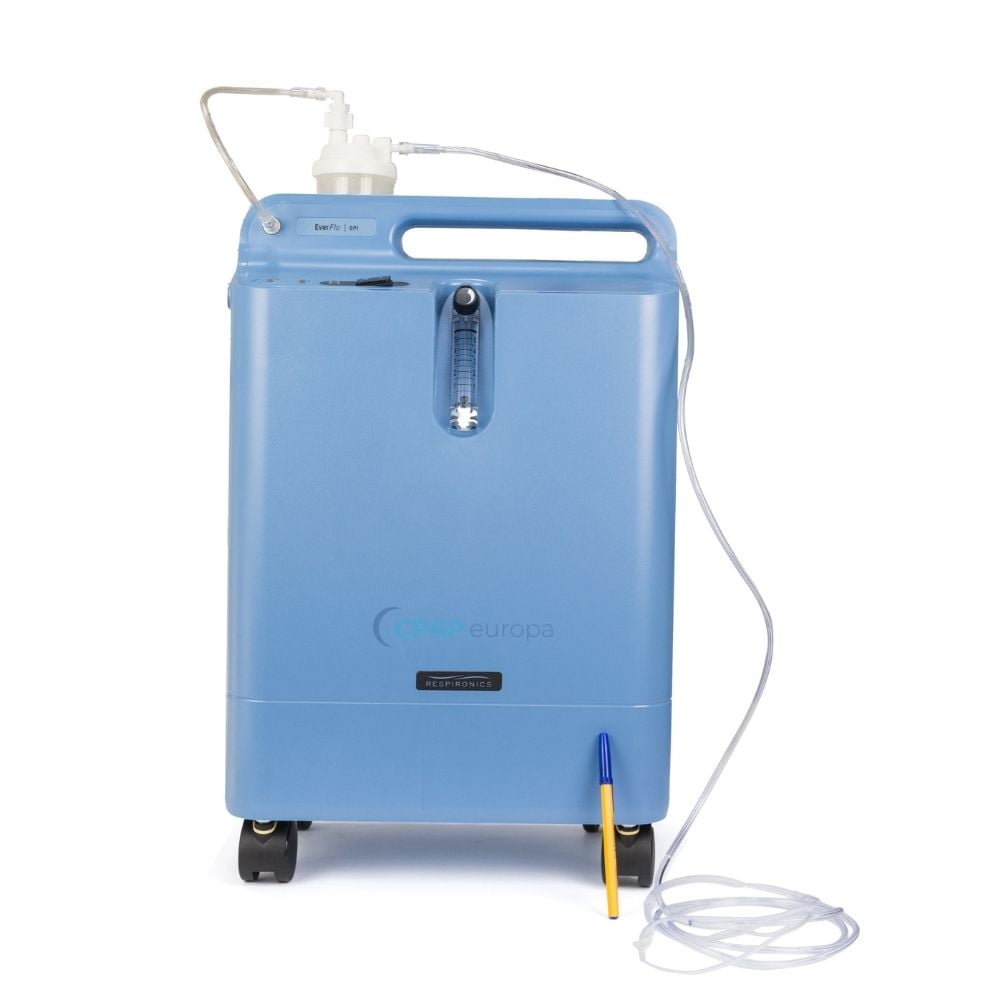 Until now, oxygen concentrators have been very similar – heavy, bulky, noisy, or requiring frequent maintenance. EverFlo from Respironics is a unique stationary concentrator that delivers what homecare providers want and patients deserve.
The unprecedentedly quiet Philips EverFlo boasts all of the great features of the original EverFlo Oxygen Concentrator, but in a much in a quieter model. Producing the impressively low 43 decibels, тhe EverFlo is currently one of the quietest home oxygen machines out there. In addition to its quiet operation, the EverFlo is also exceptionally small, and features an advanced motor system with low power usage and lightweight, durable construction. If you are looking for an easy, convenient, and very popular oxygen concentrator with an excellent price, then look no further than the EverFlo.
Power Saving & Hassle Free Operation
Ever Flo is carefully engineered every centimeter up to provide continuous, hassle-free performance while supplying the user with pure medical grade oxygen 24/7. The advanced motors deliver 5 LPM of continuous flow oxygen while producing much less noise and heat compared to other stationary oxygen concentrators.
Convenient design & quality construction 
The EverFlo is much less prone to accidental breakage thanks to its recessed flow meter and metal cannula connector. What's more, the internal storage cabinet allows you to store away any extra tubing. EverFlo comes with an easy-to-use humidifier bottle holder with velcro holding strap. It is compatible with all standard bubble humidifiers (not included in the original package). You can connect the humidifier and the oxygen tubing with ease.
Home oxygen therapy
Back in the days, home oxygen therapy has always been requiring frequent bottle changes or heavy, noisy concentrators. But that's now in the past. With the Everflo oxygen therapy patients can receive the prescribed therapy exactly without the bulky and inconvenient oxygen bottles. What separates the EverFlow from the crowd is its size and weight. Weighing just 31 pounds and built as compact as a stationary concentrator can be, the EverFlo comes in impressively small and light package, making it easy to use at home wherever you see fit and without disturbing daily life.
Simple to use and breeze to maintain
EverFlo interface panel has a simple on/off switch and rotating Flow Meter Knob for easy control without confusing extras. Three indicator lights (green, yellow, red) and audible alarms help ensure your concentrator is working properly.
Features
Compact design looks less like a medical machine – EverFlo's ergonomic design takes up less space and doesn't draw as much attention;
Lightweight for easy transport – The EverFlo Oxygen concentrator weighs in at only 31 pounds, reducing shipping and storage costs and risk of injury;
The Right Fit series focuses on patients' needs – EverFlo is part of the Right Fit, a complete portfolio of oxygen products and programs inspired by patients and built for business;
Low maintenance for reduced service costs – No homecare provider filter change for two years. Patients do not ever have to change filters;
Lower power consumption makes EverFlo patient-friendly – The system uses less electricity and produces less heat;
Humidifier Bottle Platform for extra flexibility – The platform is designed to be compatible with all bottle styles and features an easy-to-use closure;
Recessed flow meter reduces accidental breakage – Recessed flow meter reduces accidental breakage;
Oxygen purity indicator option for increased security – EverFlo is available with or without oxygen purity indicator. This OPI (Oxygen Percentage Indicator) ultrasonically measures oxygen output as a purity indication;

Durable metal cannula is less likely to break.
In the box
Nasal Cannula (2 m)
Humidifier
Filters Set
In order to start therapy you only need to supply distilled water for the humidifier. Everything else is included in the box.
Related mask packs and accessories:
Oxygen mask
Nasal Cannula – 2 m
Nasal Cannula – 5 m
Warranty – 2 years
---

Where to buy an oxygen concentrator in Singapore?
We deliver oxygen concentrators to Singapore and Malaysia. To request a quote for bulk orders, please contact us at [email protected] or give us a call +4930 209 931 898.
Where do we ship oxygen concentrators in Singapore?
CPAPEuropa ships medical-grade oxygen equipment to the entire Singapore, all regions included:
Central Region
East Region
North-East Region
North Region
West Region
We cover the following Singaporean urban areas as well:
Ang Mo Kio, Bedok, Bukit Batok, Bukit Merah, Bukit Timah, Choa Chu Kang, Clementi, Geylang, Hougang, Jurong East, Jurong West, Kallang, Pasir Ris, Punggol, Queenstown, Sembawang, Sengkang, Serangoon, Tampines, Toa Payoh, Woodlands, Yishun.
Technical specifications
Technical specifications
| | |
| --- | --- |
| Dimensions | 58.4 cm H x 38.1 cm W x 24.1 cm D (23″ H x 15″ W x 9.5″ D) |
| Input Voltage | |
| Input Frequency | |
| Average Power Consumption | |
| OPI (Oxygen Percentage Indicator) Alarm Levels | Low Oxygen (82%) and Very Low Oxygen (70%) |
| Oxygen concentration* (at 5 LPM) | |
| Liter Flow | |
| Weight | |
| Outlet Pressure | |
| Operating Temperature | 12°C to 32°C/55°F to 90°F |
| Sound level | |
| Storage/Transport Humidity | -34°C to 71°C (-30°F to 160°F) up to 95% relative humidity |
| Operating Humidity | |
| Operating Altitude | 0 to 2286 m (0 to 7500 ft) |
Downloads
FAQ
FAQ