Portable Oxygen Concentrator Inogen Rove 6
€ 2,990.00 (Free EU/UK Shipping)
Inogen Rove 6 is the latest oxygen concentrator of the American brand Inogen (manufactured in the USA)
The unit runs on batteries that last over 12 hours on a single charge. This mobile oxygen concentrator is FAA compliant and ready for air travel on any airline. The pulse mode of operation delivers oxygen only while the patient inhales, making it extremely efficient and equivalent to much larger machines at 96% oxygen purity.
Its compact size, light weight (8 x 18 x 20cm; 2.2kg) and convenient carrying accessories make it the perfect companion for walking or traveling.
This is the Single Battery version. For the Double Battery version, click here.
Description
Description
The newest portable concentrator Inogen Rove 6 delivers the highest amount of oxygen per kilogram of body weight.
Inogen Rove 6 is the newest portable oxygen concentrator from the American leader in oxygen therapy equipment – Inogen. This model is the improved version of the previous best-seller in the portable oxygen therapy segment – the legendary Inogen G5. The Rove 6 is designed for patients who are aiming for perfection in their oxygen therapy. It is the latest model portable concentrator for 24-hour use. It is powerful, lightweight, silent and yet easy to use and maintain.
If you are looking for maximum comfort and freedom, then the Inogen Rove 6 is the best choice. This latest model is designed to allow the user to enjoy life while receiving their oxygen therapy anywhere and anytime.
Inogen Rove 6 will always be by your side providing the oxygen you need, wherever you are.
Main Features:

Rove 6 provides 6 different oxygen flow settings.
Perhaps the most complete portable oxygen concentrator that the American leader in oxygen equipment Inogen has created.
With its compact design, the Rove 6 weighs only 2.2 kg (with a single battery) and is one of the quietest portable oxygen concentrators on the market.
The concentrator delivers up to 1260 ml of medical grade oxygen per minute.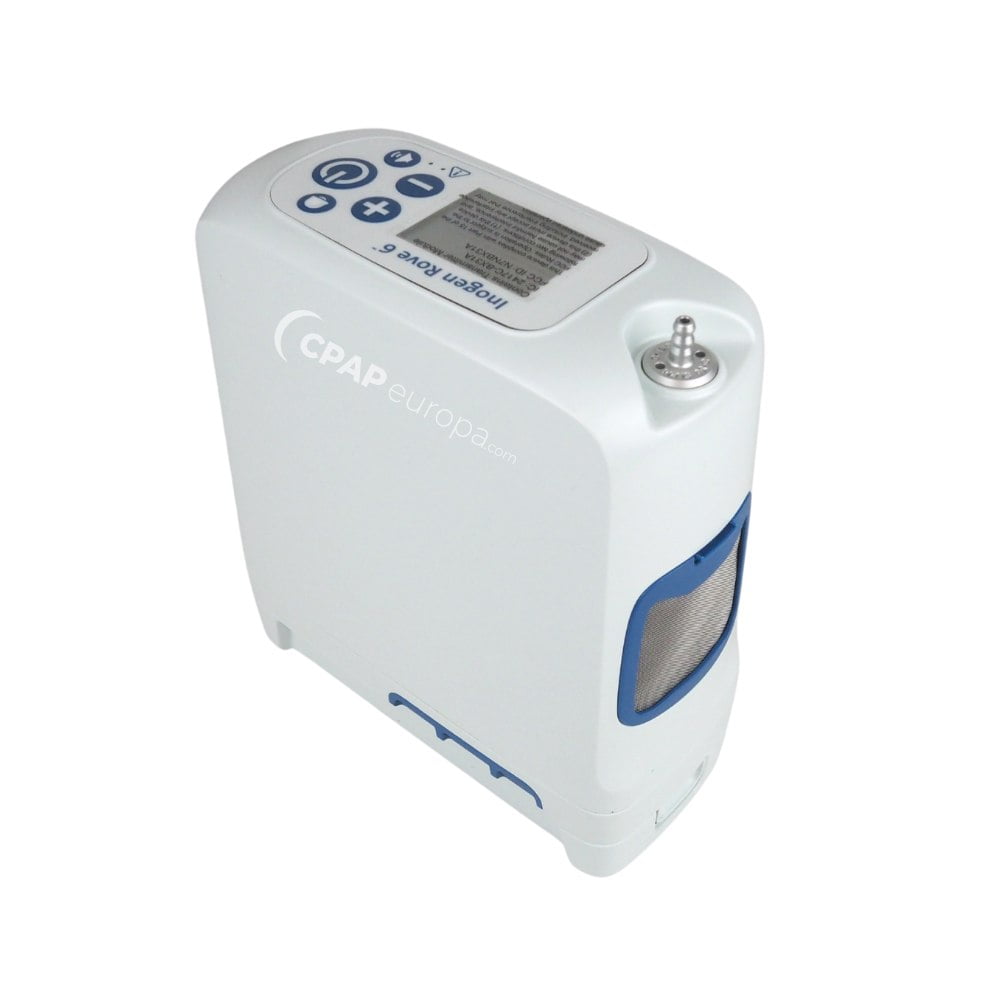 Compact and lightweight
A mobile oxygen concentrator with easy oxygen flow settings in stages 1 to 6. Rove 6 delivers up to 1260 ml of medical grade oxygen per minute.
Portable oxygen machine designed for 24 hours use and complete independence for patients. .
Now you can enjoy life to the fullest with friends, family while on the road (or on a plane) or just on a long walk in nature.
The Inogen Rove 6 Mobile Oxygen Concentrator has a convenient and easy-to-read LCD display. The buttons are conveniently located and make operating the device extremely easy.
Intelligent
Rove 6 works with an intelligent pulse-flow delivery technology.
The concentrator features a precise algorithm which detects each breath, and ensures sufficient oxygen flow within 400 milliseconds of taking a breath – essential for proper gas exchange in the body. The device also detects the patient's rapid breathing, delivering just the right amount of oxygen needed. During increased physical activity, the device delivers smaller doses of oxygen at shorter intervals, while during sleep, for example, the doses are larger but released slower to best meet the patient's energy needs.
Secure
The Inogen Rove 6 mobile oxygen concentrator offers maximum precision and safety thanks to the quality components and a system of alarms that warns in case of low oxygen concentration or lack of breath.
Standard equipment
Inogen Rove 6 Portable Oxygen Concentrator;
Contact charger;
Car charger;
Battery;
Instructions for use;
Nasal cannula;
Case and shoulder strap for comfortable carrying.
Oxygen Flow 

Pulse delivery system with six flow settings: 1 to 6

Weight

2.2 kg (with a single battery)

Dimensions

Length: 18,26 cm

Width: 8,28 cm

Height: 20,7 cm

Noise Level

39dBA at stage 2

Battery

Single with the possibility of working up to 6.25 hours.

Recharge time: up to 3 hours.

Double battery with the possibility of working up to 12.75 hours

Recharge time: up to 6 hours.

Power 

AC power supply 100-240V, 50-60Hz

DC power cord 13.5 – 15.5V DC, 10A suitable for a car use.

Operating with the device

Easy to operate thanks to the accessible buttons and easy-to-read LCD display.

Warranty

3 years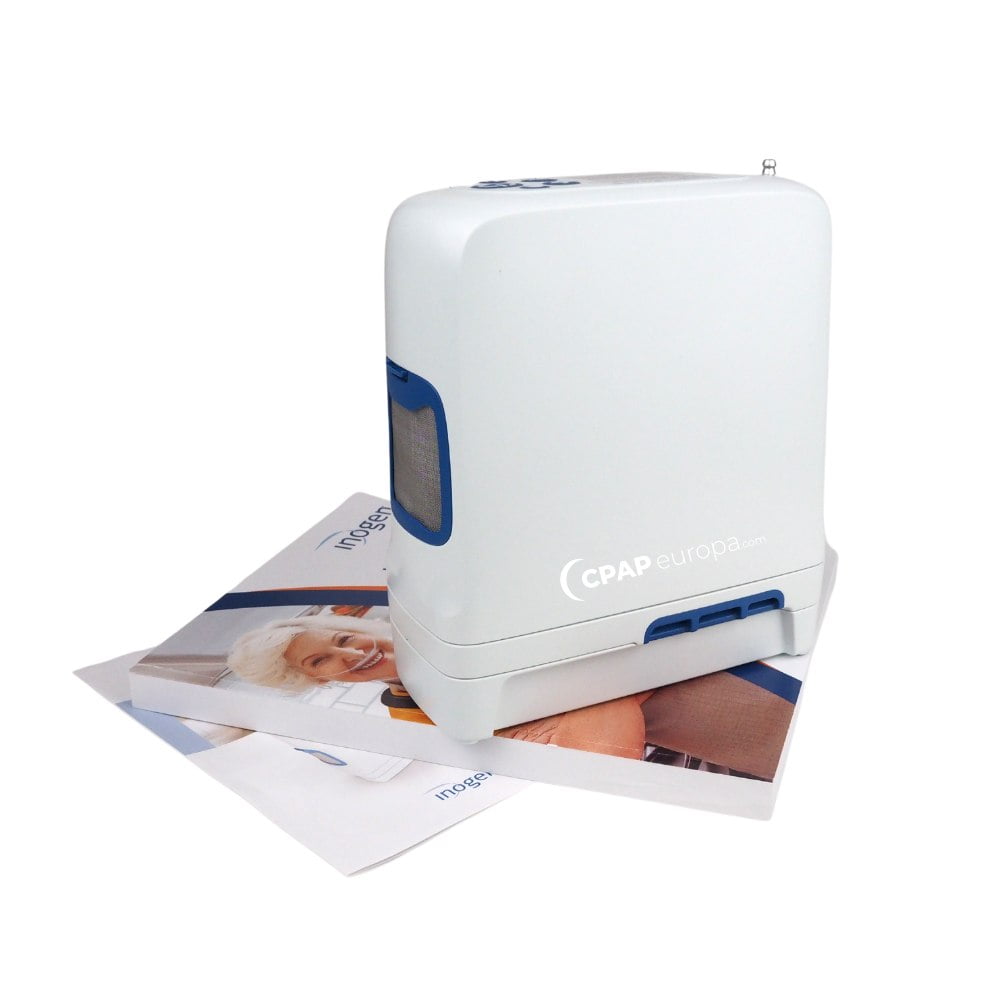 More about the revolutionary ROVE 6 by Inogen Medical
The Inogen Rove 6 Portable Oxygen Concentrator is the ultimate companion for on-the-go oxygen therapy. With its lightweight and compact design, this concentrator provides you with the freedom to pursue your daily activities without the constraints of traditional oxygen tanks.
Featuring advanced technology, the Inogen Rove 6 delivers reliable and efficient oxygen therapy, ensuring you receive the oxygen you need, whenever and wherever you need it. With adjustable flow settings, you can customize your oxygen delivery to suit your specific requirements, providing optimal comfort and peace of mind.
Designed with your convenience in mind, the Inogen Rove 6 is incredibly user-friendly. Its intuitive control panel allows for easy operation, making it accessible for individuals of all ages. Additionally, the large LCD screen provides clear visibility of important information such as battery life, flow settings, and alarms, ensuring you stay informed and in control.
One of the standout features of the Inogen Rove 6 is its extended battery life, allowing you to enjoy uninterrupted oxygen therapy throughout the day. Whether you're attending social events, exploring the outdoors, or simply running errands, the Inogen Rove 6 ensures you never have to worry about running out of power.
This portable oxygen concentrator also boasts a quiet operation, ensuring a peaceful and discreet oxygen therapy experience. You can confidently go about your day without drawing unnecessary attention. The lightweight and ergonomic design further enhance its usability, enabling effortless portability and comfortable handling.
Safety is paramount with the Inogen Rove 6. Equipped with intelligent sensors and alarms, it provides alerts for low oxygen levels, power loss, and other potential issues, ensuring your well-being is always protected. Additionally, the durable construction and rigorous quality standards guarantee a reliable and long-lasting device.
Тhe Inogen Rove 6 Portable Oxygen Concentrator offers a powerful and convenient solution for individuals seeking mobility and independence in their oxygen therapy. Its advanced features, user-friendly interface, extended battery life, and emphasis on safety make it an exceptional choice for those in need of reliable and portable oxygen delivery.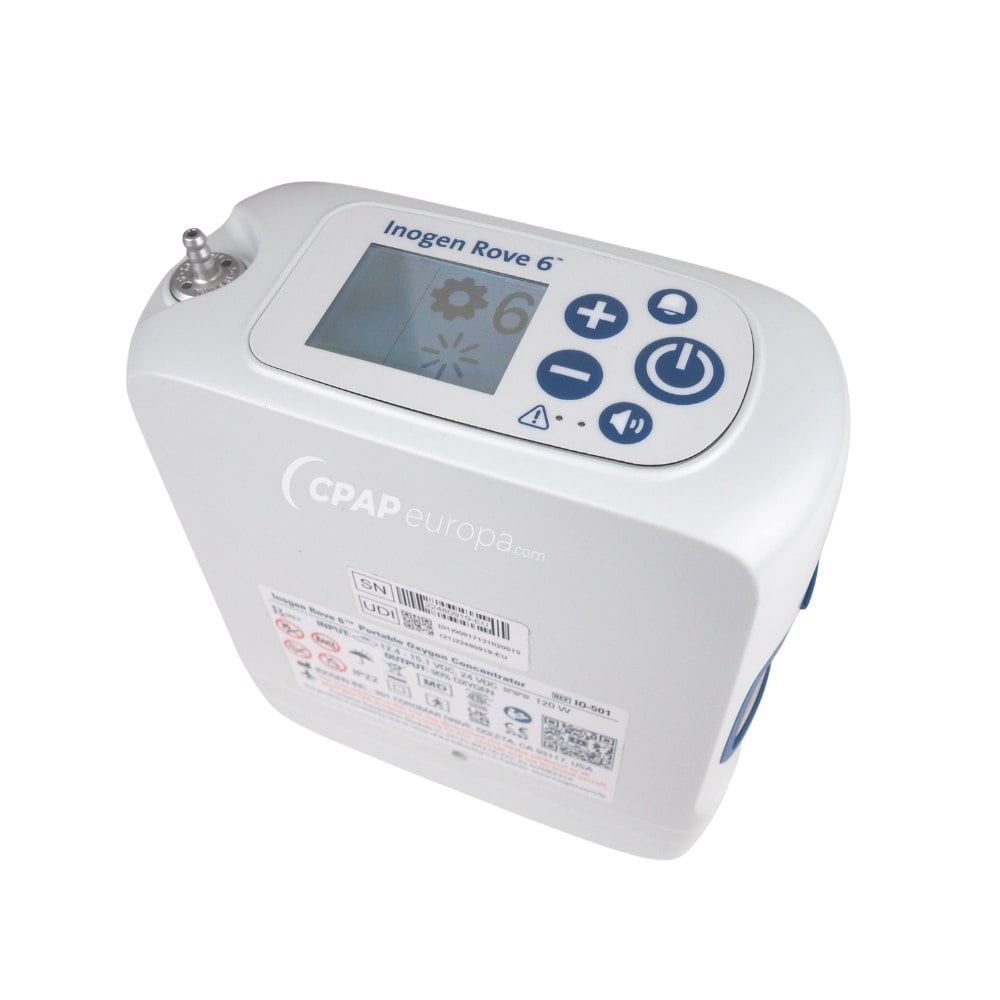 Why Chose a Portable Oxygen Machine like the Inogen ROVE 6
When it comes to oxygen therapy, the availability of portable oxygen concentrators has revolutionized the way individuals receive their necessary oxygen supply. Gone are the days of being tethered to stationary oxygen concentrators or lugging around heavy oxygen bottles. Portable oxygen concentrators like Rove 6 by Inogen Medical offer a range of advantages that make them a superior choice for those in need of supplemental oxygen.
One of the key benefits of portable oxygen concentrators is their unmatched mobility and freedom. Unlike stationary concentrators, which confine users to a specific location, portable models like Inogen Rove 6 allow individuals to maintain an active lifestyle. Whether it's traveling, attending social events, or simply going for a walk in the park, portable concentrators provide the flexibility to experience life to the fullest.
The compact and lightweight design of the Inogen ROVE 6 for example make it incredibly convenient to use and carry. This device is specifically engineered to be easily transported, whether in a backpack, purse, or wheeled cart. This portability enables users to navigate through various environments without the hassle of bulky equipment or the need for assistance.
Another significant advantage of Inogen Rove 6 is its unlimited oxygen supply. While oxygen bottles have limited capacity and require regular refills or replacements, portable concentrators extract oxygen from the surrounding air and continuously deliver it to the user. This eliminates the need for oxygen deliveries and ensures a constant and uninterrupted supply of oxygen whenever it is needed, regardless of location or duration.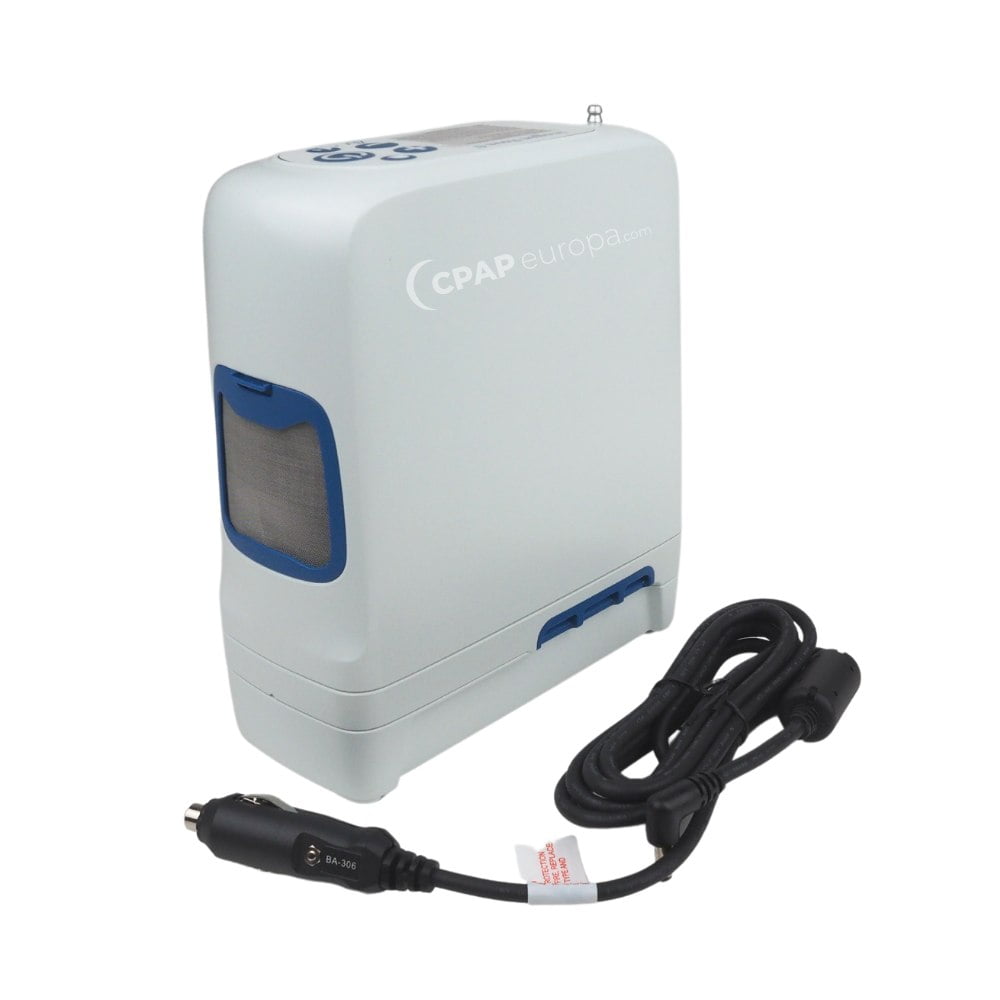 Furthermore, the Inogen ROVE 6 portable oxygen machine offers adjustable flow settings to meet individual needs. Users can easily adjust the oxygen flow rate to match their prescribed therapy requirements, ensuring optimal comfort and effectiveness. This customization provides a tailored experience, promoting better oxygen saturation levels and enhancing overall well-being.
In terms of safety, portable oxygen concentrators like Inogen ROVE 6  are designed with advanced features to ensure peace of mind for users. They include alarms and sensors that monitor oxygen levels, battery life, and potential malfunctions. With these built-in safety measures, individuals can confidently rely on their portable concentrators to deliver the oxygen they need while minimizing risks and complications.
Last but not least, portable oxygen concentrators like ROVE 6 are environmentally friendly and cost-effective in the long run.
Unlike oxygen bottles, which require transportation, storage, and disposal, portable concentrators eliminate the waste associated with traditional oxygen delivery methods. Additionally, the use of portable concentrators reduces the need for frequent oxygen refills or replacements, resulting in significant cost savings over time.
The Inogen ROVE 6 Portable Oxygen Concentrator offers numerous advantages over stationary oxygen concentrators and oxygen bottles. The machine's unmatched mobility, convenience, unlimited oxygen supply, customizable settings, safety features, and environmental and cost benefits make ROVE 6 the superior choice for individuals seeking oxygen therapy. With this portable oxygen concentrator, you can regain their freedom, maintain an active lifestyle, and breathe easier, wherever their journey takes you.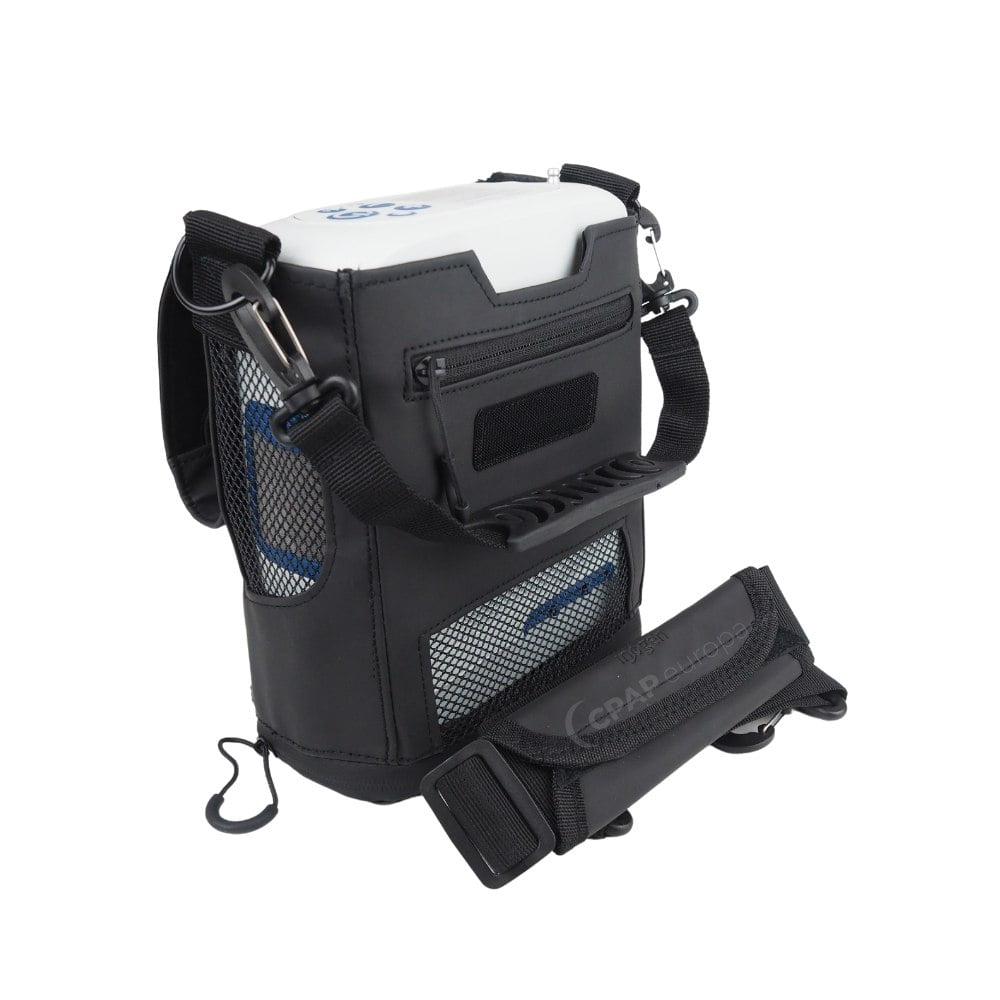 Reviews (5)
Reviews