Sale!
Resmed AirSense 10 AutoSet COMPLETE BUNDLE
€ 854.00 – € 922.00
If you're looking for a COMPLETE AirSense 10 BUNDLE made to cover your therapy needs for years to come there, this is it! Introducing the COMPLETE ResMed AirSense 10 CPAP bundle! Save money and hassle with CPAPeuropa's COMPLETE AirSense 10 Pack!
This COMPLETE CPAP bundle includes:
ResMed AirSense 10 AutoSet CPAP device;
CPAP Mask in your desired size;
Humidifier;
ClimateLine Air 10 Heated Tubing;
10xFilters;
+
Tubing;
SD Card;
Transport bag;
Charger.
Description
Description
Introducing the AirSense 10 COMPLETE BUNDLE featuring the original AirSense 10 + Humidifier, Heated Tube, Mask and Filters!
Save money and hassle with CPAPeuropa's AirSense 10 COMPLETE BUNDLE!
Includes the legendary AirSense 10 + CPAP Mask of your Choice + ClimateLineAir 10 Heated Tubing + Air Sense 10 Humidifier + 10 Filter Pack!
Now available in a complete Deluxe set with everything you would ever need with the AirSense 10 AutoSet CPAP! 
+ 2-Year Warranty


The AirSense 10 COMPLETE BUNDLE includes:
ResMed AirSense 10 AutoSet CPAP device;
CPAP Mask in your desired size
Tubing;
SD Card;
Transport bag;
Charger;
Filter
+
Humidifier
ClimateLine Air 10 Heated Tubing
10xFilters
ResMed AirSense 10 AutoSet – Auto CPAP device
The ResMed AirSense 10 AutoSet is a premium automatic pressure adjusting CPAP device available from the global leader in Sleep apnea treatment – ResMed. Intuitive and easy-to-use, you simply plug in the the AutoSet CPAP device and press Start. This self-adjusting machine is available with an optional integrated humidifier and optional ClimateLineAir™ heated tube designed to optimise your comfort.

Features
The most advanced Resmed apnea event detection;
Auto-mapping;
Reduction of exhalation pressure;
SmartStart auto turn on as the user takes a breath;
Mask leak monitoring and alerts;
Built-in ambient light sensor;
Easy-Breathe Motor;
Reliable humidification;
Remote monitoring;
Heated tubing;
EPR (reduction of exhalation pressure) technology.
New standard in CPAP treatment and efficiency
With the ResMed AirSense 10 AutoSet – COMPLETE BUNDLE you will never encounter any sleep difficulties during your sleep apnea treatment course. Thanks to the high pressure air coming through the mask, this premium device provides a gentle air pressure through your mask (be it nasal or full-face mask) until you fall asleep (AutoRamp feature). AutoRamp is easily adjustable to help you fall asleep just when you want to. After the pre-adjusted period runs out, AutoSet will begin to increase the pressure to reach the optimal pressure levels for your treatment.
Wireless Connectivity
The AutoSet's built-in wireless connectivity allows you to connect your CPAP to ResMed's new securely hosted cloud-based system, AirView™. Then your doctor or healthcare provider can  securely review your therapy data and re-adjust your device settings if needed. He or she can also see if your device is working properly and resolve any issues to make sure you get the right treatment without complications or delay.
AutoRamp intelligent detection
The AutoRamp feature detects sleep onset and begins to deliver low pressure levels for greater comfort and undisturbed sleep. AutoRamp gradually increases the air pressure to the prescribed level.
Built-in ambient light sensor
The integrated Airsense 10 ambient light sensor self-regulates the brightness of the screen based on the ambient light in your room. The gentle screen back light won't disturb your bed partner.
Simple and intuitive user interface
User interface providing constant feedback on your therapy every time you wake up rested in the morning. The device allows you to change the comfort settings as you see fit.
Easy-Breathe motor
Another great feature ResMed integrated into the AirSense 10 AutoSet COMPLETE BUNDLE is the whisper-quiet motor for a peaceful night's sleep.
SmartStart
The SmartStart feature detects your initial breathing as soon as you put your mask, beginning the therapy right away!
Consistent humidification
Optional integrated humidifier with state-of-the-art HumidAir technology for consistent humidification throughout the night.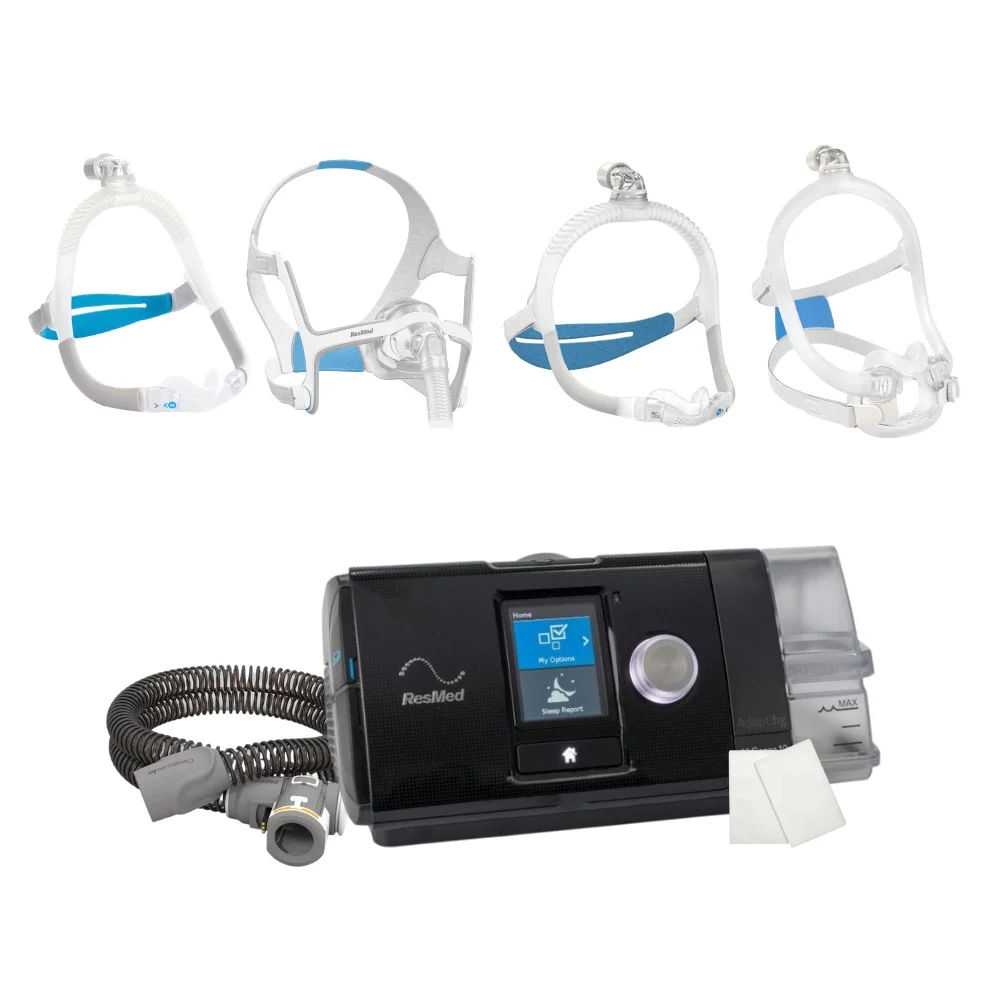 ---
2 year warranty
---
As a licensed ResMed dealer, we provide standard and automatic CPAP machines and masks to our customers in Europe. Check out Resmed's standard and automatic CPAP devices and find the best solution for your specific needs and therapy!
---
WE SHIP WITH 1-DAY DELIVERY TO EVERY COUNTRY IN EUROPE, INCLUDING:
Germany, Denmark, Sweden, Norway, Switzerland, Finland, Spain, Portugal, France, United Kingdom, Poland, Austria, Hungary, Luxembourg, Belgium, Slovakia, Czech Republic, Romania, and Ireland. Only to Iceland does the express shipping take 2-3 days.
WORLDWIDE SHIPPING – 3-8 DAYS
We ship worldwide on a daily basis. Whether you're from the United States, South Africa or Japan, we got you covered. Use our automated Shipping Calculator to see the exact delivery time to your address, or say Hey! to us in the chat and ask us directly.
Technical specifications
Technical specifications
| | |
| --- | --- |
| SKU / Product code range | 37207 |
| Manufacturer: | ResMed |
| Built-In HumidAir Heated Humidifier | Optional |
| Power Supply and Cord | Yes |
| Travel Bag | Yes |
| Standard Filter Installed | Yes |
| Filter Cover | Yes |
| SD Card | Inserted in Machine |
| Distant monitoring | Yes |
| Automatic Start/Stop function | Yes |
| Noise | 26dB |
| Pressure | 4-20 cmH2O |
| Dimensions | 11x25x15см |
| Weight | 1.2 kg |
| Power supply | 90W |
| DC output |  24V 3.75A |
| Power consumption | 53W (57VA) |
| Maximum power consumption | 104W (108VA) |
| Operating temperature range | +5°C to +35°C |
| Integrated pressure sensor | External (-5 to +45 cm H2O) |
| Oxygen flow sensor | Internal (-70 to +180 L/min) |
| IEC 60601-1:2005 class | Yes |
| Class II, BF, Ingress protection IP22 | Yes |
Downloads
FAQ
FAQ
Q. Is ResMed AirSense 10 AutoSet compatible with any ResMed mask?
A. Yes. Any ResMed CPAP will fit the ResMed AirSense 10. Be sure to choose the right size mask in order to ensure your comfort and leak-free sleep apnea treatment using AirSense 10 AutoSet (or any other CPAP device for that matter).
Q. Does AirSense 10 AutoSet come with built-in wireless connectivity for use with myAir?
A. Yes.
Q. Does the package include a travel carry case?
A. Yes.
Q. Is ResMed AirSense 10 noisy?
A. No. This CPAP model is specifically engineered to provide noise-free operation while you sleep. The noise level is 26dB, which very low.
Reviews (0)
Reviews