ResMed Swift FX Nano For Her
€ 105.00
Designed for ultimate comfort and flexibility, the ResMed Swift FX Nano sleep mask comes in style and scaled-down size for the female patient. Now you can move freely while you sleep, enjoying the ultra-soft cushions of the FX Nano and the secure yet gentle seal that this superior CPAP mask provides. The Nano FX attaches to your CPAP machine tubing with a flexible joint that doesn't restrict your movements. The mask also allows you to switch between sleeping on your side and your back. You can wear your hair short or long when wearing the Nano FX, as well as under or over the backstrap.
Description
Description
ResMed SwiftTM FX Nano for Her
The ResMed Swift FX Nano for Her is a lightweight nasal mask with no hard plastic parts, multiple options for your hair and a comfortable frame with no rigid edges. The scaled-down sizing options make this nasal mask capable of accommodating the delicate features of the woman's face without affecting effectiveness. The Swift FX Nano provides maximum comfort with short or long hair, allowing you to easily adjust your hair over or under the support straps. If you are looking for a dedicated sleep apnea mask that is specifically designed with the wearer comfort in mind, than look no further than the Swift FX Nano.
Features
Flexible and comfortable;
Designed specifically for women;
Comfortable;
Compact;
Silent;
Simple to use.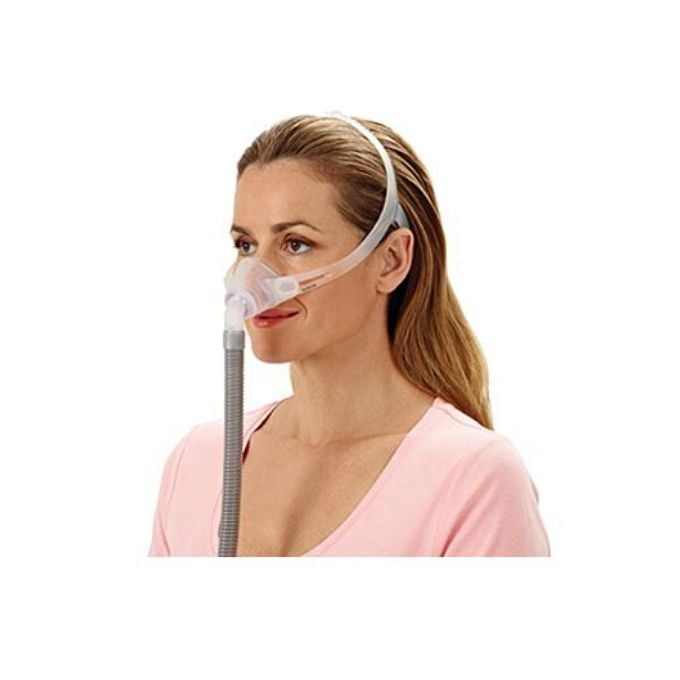 The Swift FX Nano combines the comfort of the ResMed's bestselling FX Nano nasal pillow with the softness and reliability of the nasal cushion. This streamlined nasal mask for sleep apnea treatment sports a clean and simple design with no rigid frames — all packed in a small and unobtrusive mask that you can barely notice wearing. Without sacrificing the effectiveness of your sleep apnea therapy, the Swift FX Nano is engineered to be easy to wear and clean, saving your personal time for more important activities. What's more, this mask does not have a forehead support, allowing for a clear line of sight for reading or watching TV before your therapy ramps up.
Designed for women
The Swift FX Nano nasal mask for Her comes with a Small size cushion that contours the female facial profile. The mask features smaller headgear and straps, providing optimal fit for women.

Light and comfortable
The innovative, dual-walled cushion design on mask creates a gentle trampoline like effect for tight and stable seal.
Visual freedom
The mask delivers unrestricted vision, thanks to its compact, unobtrusive design. With the Swift FX Nano on you can read or watch TV, and even wear your glasses, while your therapy ramps up.
Venting
The Swift FX Nano achieves whisper quiet venting as it direct the exhaled air away from you and your bed partner.
Hassle free movement during the night
The air tube of the Swift FX Nano connects directly to your mask, while the extra smooth ball joint allows you to change position and move freely during therapy.
Easy to use and maintain
The ResMed Swift FX Nano for Her is a simple to use and even simpler to clean and reassemble. The slip-on headgear and ultra-soft cushion are complemented with fewer construction parts compared to other competitive masks in the market. In fact, there are just three parts to assemble: tube, cushion and headgear. This is mask is not only a breeze to use but also a child's play to clean and maintain in perfect condition.
The ResMed Siwft FX Nano mask is fully compatible with any CPAP or BiPAP machine. It connects to any CPAP tube – no adaptors required!
Technical specifications
Technical specifications
Manufacturer
ResMed
Type mask
Nasal
CPAP / BiPAP compatible
Yes
Therapy pressure
 4 to 30 cm H20
Operating temperature range
41 to 104 degrees F (5-40 degrees C)
Operating humidity range
15% to 95% non condensing
Dimensions range
Depending on size
Sizes
Small 16.9'' (H) x 3.94'' (W) x 2.95'' (D)

Standard 16.9'' (H) x 4.09'' (W) x 2.95'' (D)

Wide 16.9'' (H) x 4.49'' (W) x 2.95'' (D)
Downloads
Downloads
FAQ
FAQ
Q. Is the Swift FX Nano For Her compatible with any CPAP machine?
A. Yes, the ResMed FX Nano for Her can be used with any type of CPAP machine as it is supplied with standard tubing that connects to any CPAP unit on the market.
Q. Can I watch TV or wear glasses while I have my Swift FX Nano on my face?
A. Yes, thanks to its nasal type design, the ResMed Swift FX Nano for her is not obtrusive and is much narrower compared to other nasal masks of the same class.
Q. Does the Swift FX Nano for Her cover my mouth?
A. No, the Swift FX Nano for Her is a nasal mask designed to cover only your nose with its cushion.
Q. Can I replace my Swift FX Nano mask cushion?
A. Yes, tje Nano cushion is replaceable and available in a variety of sizes to fit your needs. What's more, you can also replace the mask's headgear, too.
Q. My prescribed therapy pressure is 20. Can I still use the mask?
A. Yes, you can. The Swift FX Nano for Her supports therapy pressure between between 4 to 30 cm H20.
Q. How many sizes is the Swift FX Nano for Her available in?
A. This mask is available in three different sizes – small, standard and wide.
Q. I am used to sleeping on my side. Can I use the Swift FX Nano CPAP mask?
A. Yes, the Swift FX Nano CPAP mask is designed to make it easy to sleep on your side because it only covers your nose.
Reviews (0)
Reviews