BMC FM1A Full Face CPAP Mask
€ 105.00
The BMC FM1A full face CPAP mask provides maximum comfort, thanks to its slide-in design and dual-wall cushion design that easily adjusts to accommodate your face and ensure perfect fit with minimal pressure points at the same time!
Stay Simple: With the 5 parts of FM1A, you can assemble it instantly.Less parts, more convenience.
Indulge Your Vision: With a wider range of vision, FM1A helps you to experience a more unlimited view.
Description
Description
BMC FM1A Full Face Mask for CPAP or BPAP devices
Superior performance delivers maximum comfort. With a lighter design and effective treatment, FM1A will offer you and your family a good night's sleep.
Ultra comfort
A dual-wall cushion will significantly fit your face with minimal pressure points. The slide-in design provides you with a high-level seal and effective treatment.
Friendly usability
Thanks to its 5 parts compact design, you can reassemble it instantly. Fewer parts, more convenience.
Visual Freedom
With the unique design, your vision is totally released and you will have the chance to enjoy the world as well as therapy.
Sizing guide
Sizing guide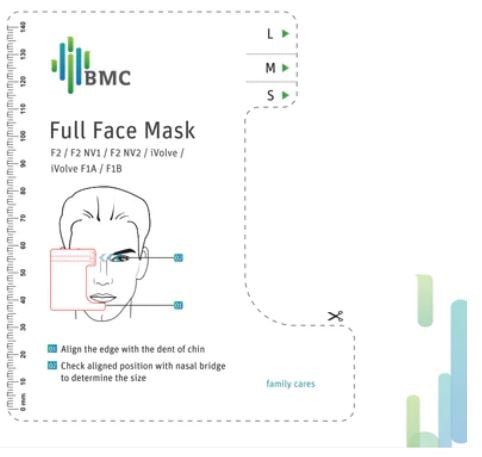 Reviews (2)
Reviews