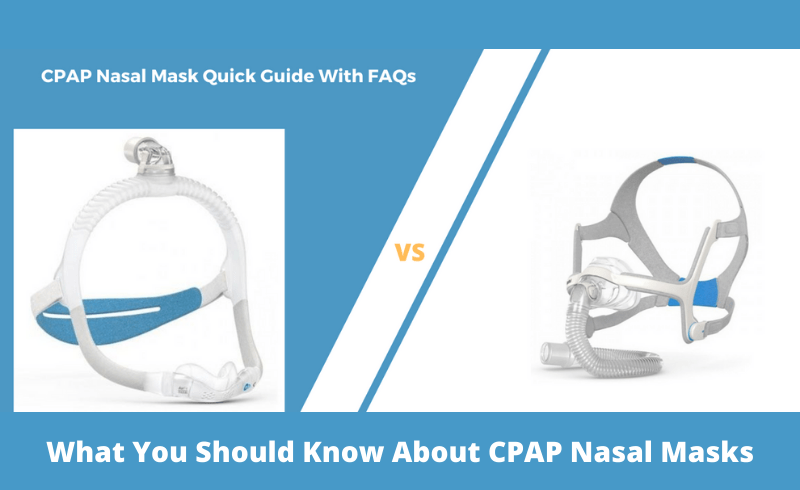 What you should know about CPAP nasal masks
Nasal CPAP masks are one of the best options for effective sleep apnea therapy. The benefits of using a nasal model instead of a full-face masks are numerous, but, unfortunately, not many patients are educated on the subject. Nasal masks are specially suited to fit your individual therapy needs, especially if you:
breath through your mouth at night;
are a side sleeper;
feel claustrophobic wearing a full-face mask;
or just want to read / watch TV at bed before going to sleep.

Is a nasal CPAP mask better?
So why is it better to opt for a nasal CPAP mask instead of a standard full face CPAP mask? First, let's look into what nasal and nasal pillows CPAP masks have to offer compared to full face models.
What are the advantages of nasal CPAP masks?
Nasal masks are designed to provide freedom of movement during sleep apnea therapy. They are perfect for both side and back sleepers. Therapy wise, studies have shown that nasal CPAP masks help patients achieve better adherence to their prescribed therapy, without discontinuing it.
The new-generation nasal masks are designed to offer unmatched levels of performance, comfort and thorough seal over older models.

Why choose a nasal CPAP mask?
AIR PRESSURE
If your CPAP setting is 10 cmh20 and higher, then a nasal masks would likely be highly recommended by your doctor. However, please note that nasal CPAP masks are NOT recommended for mouth breathers or patients whose nasal passages are blocked.
NOSE BREATHING
A nasal mask is a specifically preferred choice of CPAP users who sleep with their mouth closed and can exhale through their nose. It is comfortable to wear, unobtrusive and easy to put on and off, while simultaneously providing a steady stream of pressurized air to the sleeper's airways.
SIZE
The smaller size of nasal CPAP masks is often preferred over full face masks. Patients who find nasal pillows uncomfortable at higher pressures opt for nasal masks instead to achieve a more comfortable and effective therapy.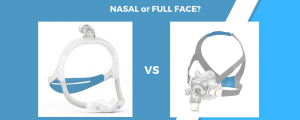 What are the main advantages of nasal masks compared to full-face masks: 
patients feel significantly more free in bed;
patients can turn in bed freely without risking seal bending or creaking;
patients enjoy better intimacy with their partners due to lower mask profile and less parts;
patient don't feel trapped when we wearing a nasal mask;
patients increase their rate of adherence to their prescribed therapy.

Nasal CPAP masks come in different shapes and sizes, so most people can find a mask that works for them.
Nasal masks are less bulky than full face masks, making them less claustrophobic. Nervertheless, some patients might not get used to the contact the mask makes with the bridge nose and the upper lip.
Nasal masks support higher pressure settings without causing discomfort. And they are offered in a variety of designs including For Him and For Her.
 
What is the difference between nasal masks and full face masks?
The main difference between nasal masks and full face masks is that nasal masks are put over the nose instead of on both the nose and the mouth. They are connected to the patient in the same way as full face masks; that is, through a tube connecting to the CPAP machine. The CPAP / BiPAP machine then in turn, pumps the pressurized air into the patient's airways directly through the nasal opening of the mask.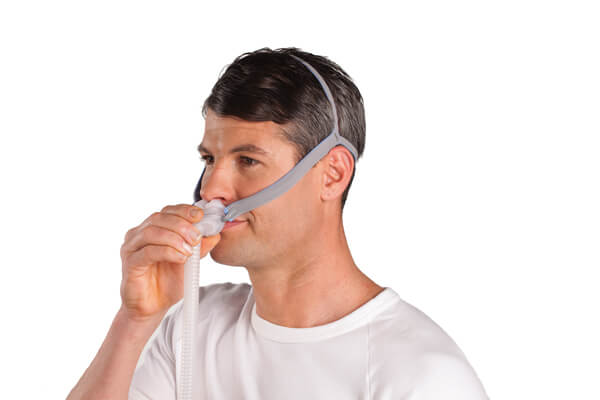 NOTE: Nasal masks cover the patient's nose and upper lip only. 
The new generation nasal masks  
The latest Resmed nasal mask come with many neat features worth stating. There are even models with over the head connection, such as the ResMed AirFit N30i . The N30i is an innovative nasal mask with huge advantages over standard models. 
The AirFit N30i is revolutionary mask, providing significantly less pressure on the nose and the ability to toss and turn in bed.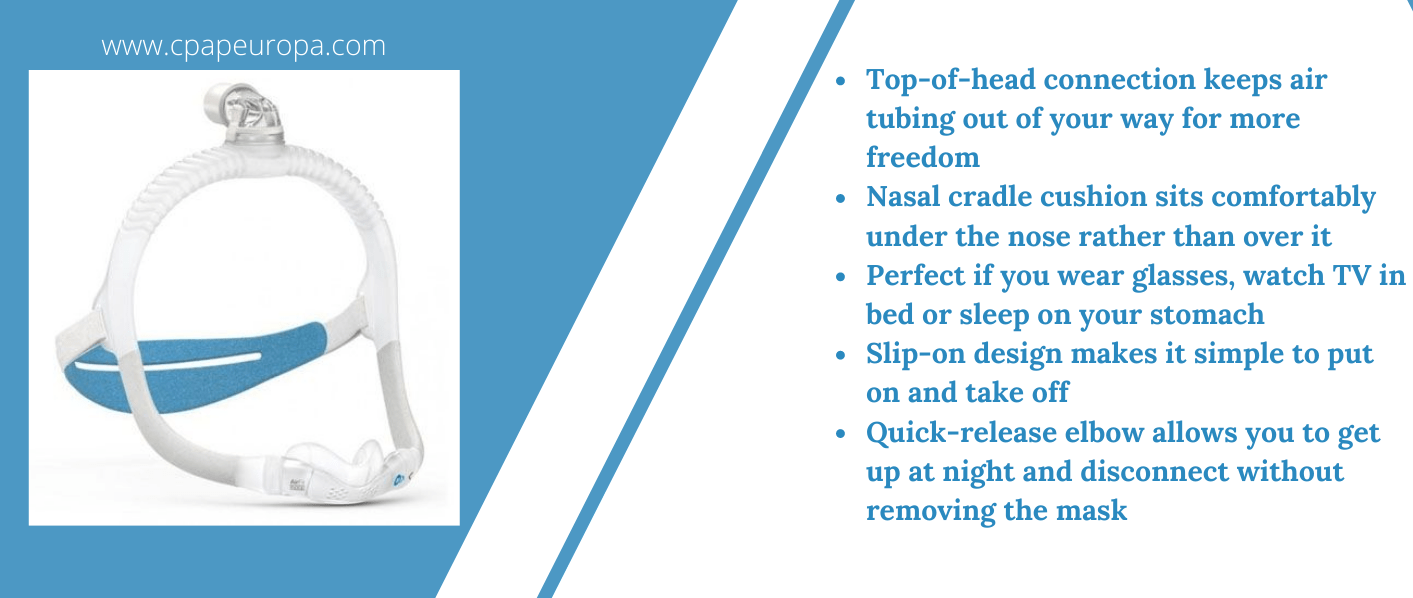 Less facial marks and increased mobility
The use of the nasal masks significantly reduces the number of patient complaints reporting nasal irritation and limited mobility when using full face masks. In the case of the N30i, the revolutionary design creates a "complete solution" mask focused on adherence to the prescribed therapy. This mask is specifically composed of a minimal number of parts, and is comfortable and easy to use by patients.
Resmed N30i main advantages:
Less facial marks,
Increased line of sight
Easy to put on and off;
Affordable to maintain due to less parts
Fits snugly against the face;
One of the quietest nasal masks on the market;

Successful treatment of sleep apnea requires adherence to therapy 
Although effective, adherence to the sometimes life-saving CPAP therapy in most cases remains problematic. Especially for some patients who may not be accustomed to nasal masks. You can read about the severity of sleep apnea and its health effects here).
 Useful tips for successful CPAP therapy
Always remind yourself that you are undergoing home sleep apnea treatment to protect your health and prevent the serious health risks untreated sleep apnea goes hand in hand with.
Talk to your partner and encourage them to share their thoughts and possible concerns about your therapy. Learn about the many benefits of CPAP therapy. In most cases, it is a therapy that saves lives. And, please, talk to your doctor doctor if you have difficulty using your mask.
Why some patients fail to adhere to CPAP therapy? 
Many patients–requiring CPAP therapy to lead a normal life without the debilitating symptoms–fail to adhere to their therapy program and discontinue treatment prematurely. The reasons for this are various. Some patient for example feel somewhat uncomfortable with a large, full face mask. They can't get used to it easily and give up. And the apnea appears again and again.

What are the disadvantages of sleeping with a nasal CPAP mask?
Although being the most preferred option for a mask, nasal models do have their drawbacks. Here are the main disadvantages of using a nasal sleep apnea mask:
They are not the most appropriate type of mask for patients who breathe mouth during sleep;
It is not recommended for patients suffering from sinusitis or a chronic condition that causes nasal congestion.
Choose a full face mask if:
You breathe through your mouth while you sleep;
Your therapy requires higher air pressure;
You have allergies or other conditions that prevent you from breathing through your nose;
You sleep on your back.

How to choose the right nasal mask?
Follow these golden rules before purchasing a nasal mask
Know your size and pick accordingly;
Choose a mask that is suitable for favorite sleep position;
 Choose a masks that is easy to maintain (there are easy to find replacement parts for it.