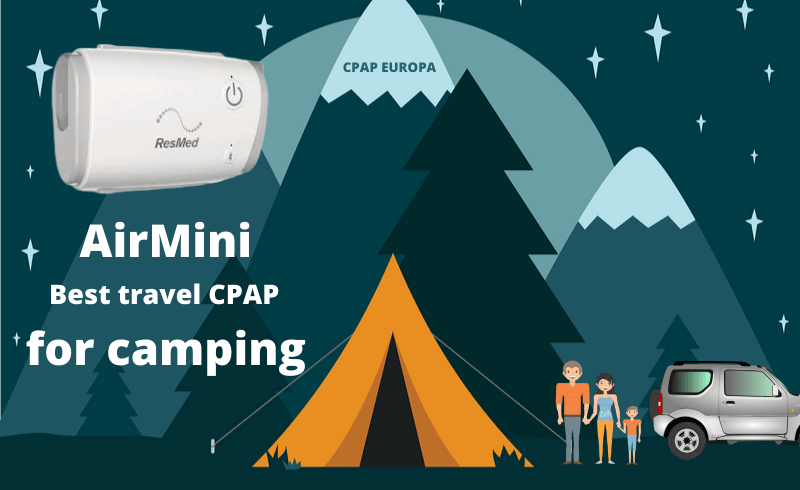 If you are considering packing your CPAP for a trip to the great outdoors, do not be discouraged – it can be done.
Although it may seem like a difficult task, camping with a CPAP is really not that challenging.
Sure, your tent is not the comfy bed you have at home, and, sure, there are no naturally occurring sockets out there in the wild.
But that doesn't mean that you'll be left stranded with your sleep apnea out there.
On the contrary, there is a convenient solution for treating obstructive sleep apnea in the wild. In fact, there are several.
Camping with CPAP is all about the right planning
To be properly prepared for camping on CPAP therapy, follow these easy pre-trip steps:
Step 1: Pack your CPAP / BPAP machine. If it is a travel CPAP and it came with a carry bag, use it accordingly for the purpose. Travel CPAPs are light and compact, so they won't add that much of extra weight to your camping gear.
Step 2: Pack you CPAP supplies. Pack your CPAP mask (with all necessary headgear, with all the hoses and tubing.
Step 3: Power up your CPAP. Be sure to charge your CPAP's batterires (travel models) and pack a spare battery if you have one. You don't want your sleep apnea savior to run out of power in the middle of the night. Calculate how long each battery is going to last while powering your CPAP.
What if you don't have extra batteries for your CPAP camping trip
The vast majority of CPAP brands offer portable DC power adapters capable of charging your device directly from the cigarette lighter.
Portable battery kits
If you haven't extra batteries for your CPAP device, a practical solution is to use a portable battery kit that can charge a CPAP battery directly from your car.
Use a 12-volt car battery to charge your CPAP. In order to do so you'll need a compatible CPAP 12 Volt DC battery cable adapter.

The complete camping solution: Resmed Airmini
The Resmed Airmini is the world's smallest CPAP machine — so small it actually fits in the palm of your hand! And, the Airmini portable CPAP weighsin at only 10.6 ounces. Small, light and yet as powerful as a full blown CPAP.
It is deliberately designed as a solution for traveling while on sleep apnea therapy – be it camping, plane travel or an epic road trip across the country. The Airmini will be there beside you.
Buy ResMed AirMini Auto Travel CPAP Machine
A mini CPAP as powerful as a full-blown device
The Airmini may look tiny, but make no mistake – it packs a powerful punch when it comes to efficiency. In fact, this travel CPAP provides the same features as the best-selling ResMed AirSense 10 Auto CPAP, including auto ramp, SmartStart, Bluetooth connectivity, and advanced expiratory pressure relief.
And, it comes with Resmed's innovative waterless humidification system, which is another great plus when going camping with a CPAP device.
Transcend Auto Travel CPAP
Another great and more affordable option for camping with sleep apnea is the Transcend Auto Travel CPAP device. Just like the Resmed Airmini, the Transcend Auto is small, light and quiet, making it the perfect companion to take when travelling.
In fact, the Transcend Auto is a pioneer in the travel CPAP category when it comes to overall efficiency and affordability.
The Transcend Auto CPAP is a compact and ultra light portable machine designed for travel enthusiasts and patients leading an active lifestyle. This widely popular automatic CPAP device comes with the Transcend's air bearing blower technology (EZEX) for quiet and vibration free operation.
If you're looking for big features packed in a stunningly small package, then look no further than this premium mini device from Transcend.
Sleep apnea shouldn't be keeping you from camping!
Spending time outdoors does not mean that you have to leave your comfort zone or make compromises when it comes to your CPAP therapy.
In fact, obstructive sleep apnea should nit disuade you from camping with your family or sleeping under the stars.
CPAP Europa's line of portable sleep apnea equipment will make it possible to go camping, while maintaining the same therapy effectiveness that you enjoy using your home CPAP.
A travel CPAP device like the Resmed Airmini is specifically engineered to take care of that.
What if you stop your sleep apnea therapy for several days?
While it may sound like a good idea to just head out in the wild camping without taking any CPAP equipment with you, it is actually a terrible idea.
Pausing your therapy comes with many negative physical and mental effects as OSA's debilitating symptoms will reoccur almost immediately.
Why risk backpedaling on your effective treatment and experiencing OSA's symtpoms on your trip when the solution for camping with a CPAP is right here?