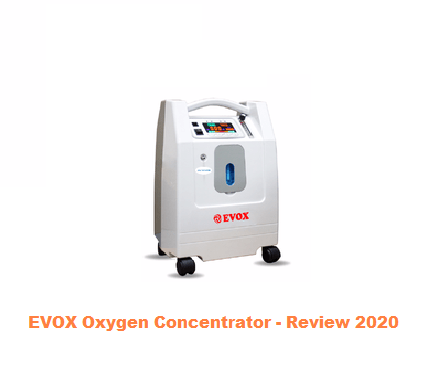 EVOX Oxygen Concentrator REVIEW and Price
Often marketed as the best oxygen concentrator in India, the EVOX home oxygen machine is arguably one of the most popular O2 units currently on the Indian market. Today we will look into that and provide a brief review of the EVOX pros and cons. But first things first…
WHAT is EVOX Oxygen Concentrator?
EVOX is a battery operated oxygen concentrator with oxygen purity of 90%-95.9% on 5LPM (litres per minute oxygen flow to the user). The current EVOX version sold in India comes with features such as SmartTouch, LED Display and nebulizer function. It is presented as a dependable and convenient home oxygen machine EVOX, designed for therapeutic use. Just like other standard oxygen concentrators, the EVOX boasts O2 purity indicator, low power consumption (350 Watt) and user safety system. In India, it is sold with a manufacturer warranty of 2 years and is available both new and second hand.
Pros
The EVOX Oxygen Concentrator is a 5 litres-per-minute unit that is somewhat light weight and robust. It looks OK and delivers what it promises to deliver, that is, pure oxygen for patients wanting to receive oxygen therapy at home instead of at a hospital. The EVOX is a less power consuming machine, with safety protection and weighs 15.5 kg. It comes with castor wheels to allow moving it around in the room and features also a bright LED display with timer options. There are 6 safety protection systems installed in the EVOX O2 and screen auto sleep to conserve energy.
Purity is also pretty good for a budget oxygen concentrator at 93%.
Cons
Not as high quality and reliable as the popular oxygen concentrators sold in Europe and the United States, such as the Krober, Devilbiss and Philips Respironics. The warranty is only 2 years, whereas the top European models may come with 3 to 5 years. As for the looks, the EVOX design does not turn heads, being simplistic and somewhat budgety, but, at the end of the day, what matters in an 02 device is its performance, price and warranty, right?

How much does the EVOX oxygen concentrator cost in India?
The EVOX oxygen concentrator usually goes for ₹ 48,900.00 to ₹ 64,000.00, depending on its condition, seller and marketplace.
Looking for the absolute best in home Oxygen Concentrators? Have a look at some of the best reviewed models with a proven track record in Europe and USA. For purchases of large amount of units and more information about shipping to India, do not hesitate to ask CPAPEuropa's staff via the online chat!  
We are here to help you find the best oxygen concentrator in India according to your personal needs and budget!
---
Tags: evox oxygen concentrator india review