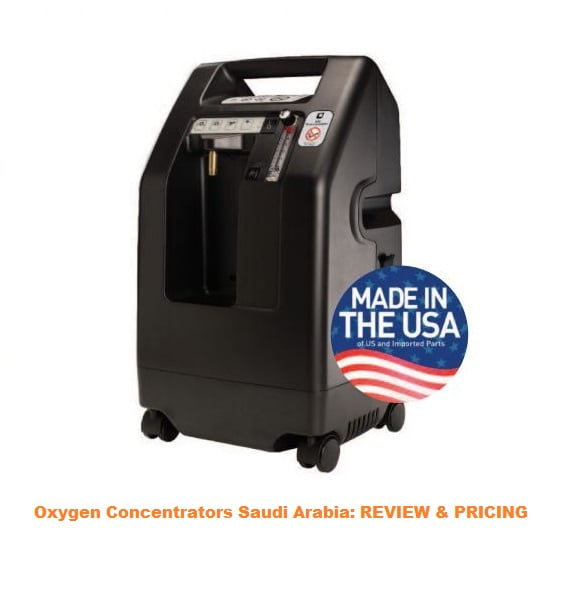 Oxygen Concentrators (Saudi Arabia): Review and Prices
With the unique Haji pilgrimage happening right now in Saudi Arabia and the Coronavirus pandemic still ravaging the Arab world, it is only natural that hospitals start looking for medical equipment designed to cope with the raging COVID-19 illness across Western Asia and the Arabian peninsula. One of these medical devices is the oxygen concentrator, which has been used worldwide for patients with both SARS-CoV-2 symptoms but COPD and other respiratory diseases requiring oxygen therapy. Today we will delve into the topic of where to buy an oxygen concentrator in the Kingdom of Saudi Arabia, providing a brief review of the best concentrators sold in SB, where you can find the best pricing, the fastest shipping and the right O2 machines (stationary or portable) for a particular oxygen treatment. But first things first…
What is an oxygen concentrator?
An oxygen concentrator (also referred to as a home oxygen machine or O2 machine) is a device that is engineered to supply the patient with pure, medical-grade oxygen through an oxygen mask attached to the face. Unlike oxygen bottles–which try to do the same, but, in the end, run out of oxygen and need refilling–oxygen concentrators produce the pure oxygen from the surrounding air – converting the air in the room into pure O2 molecules for breathing.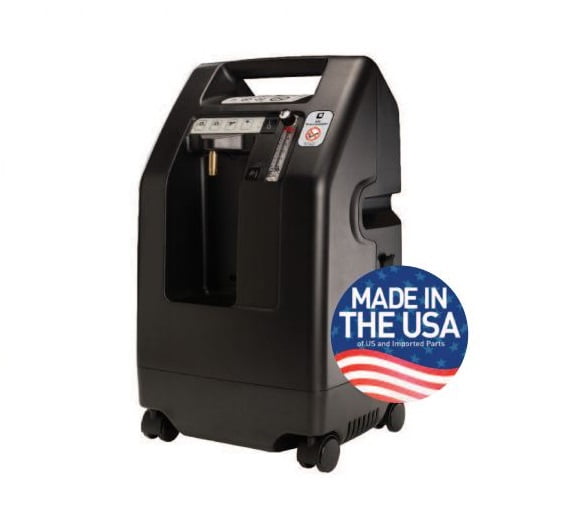 An oxygen concentrator turns air into breathable Oxygen
How many types of oxygen concentrators are available in Saudi Arabia?
There are two types of O2 machines available for purchase in Saudi Arabia: stationary and portable. The first ones–as their name suggests–are stationary devices that are placed next to the patient's bed and connected to them via an oxygen cannula and mask. The second ones–portable concentrators, or mobile–oxygen concentrators are much smaller and lighter and allow for traveling and moving around with the machine while receiving therapy. Portable oxygen concentrators are much more convenient, although more pricey than the stationary units, making them the preferred choice of people with respiratory problems who can afford them.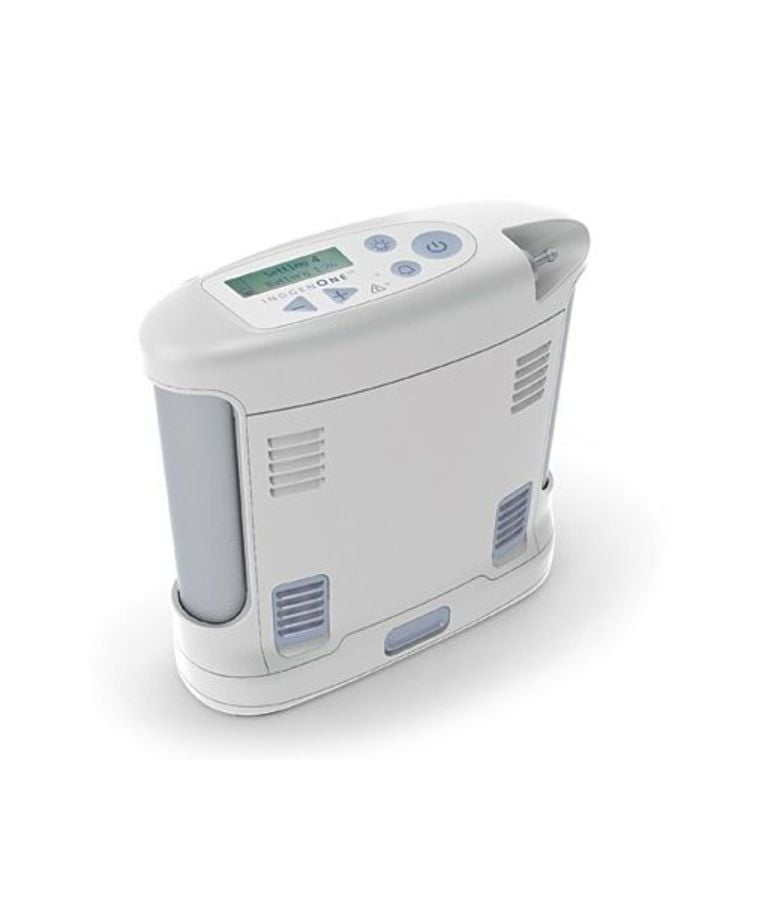 What are the biggest pros of a portable oxygen concentrator?
A portable oxygen concentrator is significantly more convenient than a stationary model as it is lighter and much, much more compact. Not to mention looks, which is another topic of discussion that we can go into some other time. In a portable oxygen machine the engineering thought is focused primarily on patient convenience and same performance as a full blown stationary unit. The oxygen concentration (purity) of a mobile O2 device is the same as the top performing stationary models (93%+). The only con is the price, which sometimes can double and even triple the price of a standard O2 machine.
How loud is an oxygen concentrator?
Most modern-day oxygen concentrators reach their full capacity in just a few minutes, and are extremely quiet during work. The idea is to provide the patient with the purest possible oxygen concentration without producing high decibels and disturbing their sleep.
What's more, every modern concentrator is equipped with sensors that give indications in case of a problem with the device. These machines are easy to operate, even by people having difficulties moving around or leaving the bed.
Did you know: When using an oxygen concentrator at home, the amount of oxygen in the room does not change.
Are oxygen concentrators flammable?
How much does an oxygen concentrator cost in Saudi Arabia?
It depends on the condition of the unit – a second hand oxygen machine will be much less expensive than a brand new one. And, a stationary one will be much less expensive than a portable one. The brand is also of the utmost importance when defining the price. For example, an oxygen concentrator made by the leading manufacturers such as Krober, Devilbiss and Philips Respironics. are more expensive than a Chinese O2 unit sold on Alibaba, for example. Brand new oxygen concentrators in Saudi Arabia normally cost the same as in Europe. If they are more expensive, it means that you're either paying extra for shipping, or you're being overcharged by the seller.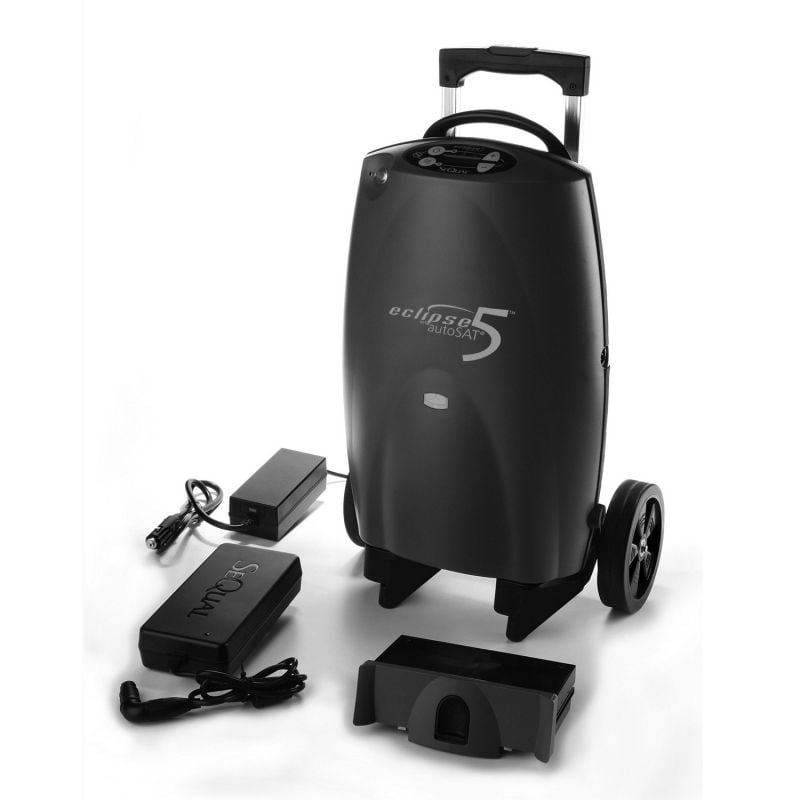 Are oxygen concentrators in Saudi Arabia expensive?
Somewhat, yes. Just like anywhere else in the world. Typical oxygen concentrator prices in Saudi Arabia fall in the range of 4000 – 8000 SAD (4000 – 8000ر.س). But what is important here is to note the reason for the prices of O2 concentrators being high in SB. Оxygen concentrators are sophisticated electronic devices, not to mention the fact that they are specialized medical equipment that often saves lives. So it is quite understandable that they come at a higher price. Especially in a time of a global pandemic that increased the demand for such machines tremendously!
Where to buy oxygen concentrators in Saudi Arabia
We service the entire Arabian peninsula – shipping oxy machines, CPAP devices and accessories to every county in the Kingdom and servicing the following areas and more. If you are looking for a specific model of O2 concentrator in SB, please do not hesitate to contact us directly and ask. We are here to help.
| | |
| --- | --- |
| Riyadh | 11564 |
| Zulfi | 15941 |
| Makkah | 24236 |
| Madinah | 20012 |
Tags: oxygen concentrators saudi arabia review and pricing