Sale!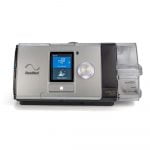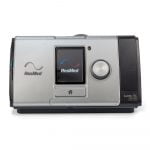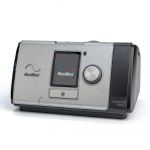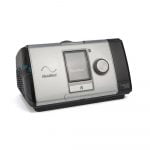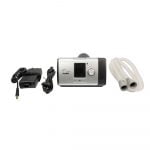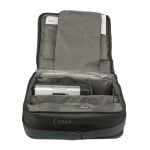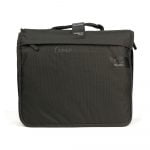 ResMed Lumis 150 VPAP ST
€3,200.00
Description
Description
ResMed Lumis 150 VPAP ST – Non-invasive Ventilator
Easy to set up and even easier to use, Lumis 150 comes with built-in wireless connectivity to ResMed's cloud-based patient management system AirView. AirView allows for remote monitoring of your treatment, making it easy for your doctor to track your progress. What's more, the Lumis 150 features an intelligent Backup Rate (iBR) function for optimal patient comfort and the opportunity to breathe spontaneously.
Features
Intelligent Backup Rate (iBR) – iBR adds backup breaths to quickly and comfortably bring patients back to target. The feature focuses on providing patients with maximum opportunity to trigger the ventilator while it stays out of the way until you need it.
TiControl™ is another easy-to-use feature that allows you to set minimum and maximum limits on either side of your optimal inspiratory time. TiControl encourages spontaneous breathing.
Vsync delivers outstanding patient–ventilator synchrony, even when a significant leak is detected.
Trigger and cycle optimises settings according to your particular need and condition, utilizing five separate trigger and cycle sensitivity levels.
QuickNav – this feature gives you convenient control over the Settings and Monitoring screens, allowing you to change settings as you see fit. Optimized for low-touch therapy adjustment.
Ramp and Ramp Down – designed with maximum comfort in mind, the Ramp and Ramp down features will help you ease into and out of each therapy session with Lumis 100.
AirView for remote patient management. With AirView your therapy data can be sent seamlessly and securely to ResMeds cloud-based 'system, where you can access it remotely from anywhere in the world. Now you can gain quick access to your most recent therapy statistics and trend data. In addition, AirView's 'remote assist' and 'remote settings' functions allows you to manage your Lumis 150 more easily than ever!
Climate Control Auto – CCA is an automatic humidification feature that can be used with a HumidAir™ heated humidifier and ClimateLineAir™ heated tube. Climate Control Auto delivers humidification automatically. No need to go over settings and complicated menus!
Operating modes
CPAP
Spontaneous (S)
Timed (T) & Spontaneous / Timed (ST)
Elegant design
Boasting ResMed's clean and stylish design, Lumis 150 also comes with a clean user interface, designed with the patient in mind in mind. The intuitive and simple user interface is easy to navigate and view, allowing you to effortlessly personalise the comfort settings according to your personal preference. In addition, the Lumis provides important insight into your progress thanks to the sleep report at the end of every session.
Built-in simplicity
The Non-invasive Ventilator ResMed Lumis 100 VPAP ST displays your SpO2 and pulse rate on the screen even before therapy has begun. This way you can seamlessly tailor your ventilator's settings to your specific condition. What's more, Lumis 150 ST also comes with an "Essentials" mode for patients who would like to receive their therapy without worrying about
difficult settings or menus. What you do is simply press the Start button and your ventilator takes care of the rest!
Power
Lumis 150 ST with optional DC / DC Converter 24V / 90W allows you to use your device, even with the HumidAir humidifier and ClimateLineAir. The device takes power from a 12V or 24VDC power source from a car, boat or any other battery-powered device.
Optional ResMed battery system – PowerStation II
The optional ResMed battery system called PowerStation II delivers up to 12 hours of autonomy.
FFA Approved
ResMed Lumis 150 VPAP ST is confirmed for use on an airplane as it meets meets the requirements of the Federal Aviation Administration (FAA) in all phases of the air travel.
Included in this package:
Non-invasive Ventilator ResMed Lumis 150 VPAP ST
---
Warranty
2-Year Manufacturers Warranty.
---
Technical specifications
Technical specifications
| | |
| --- | --- |
| CPAP (continuous positive Airway pressure) | Yes |
| S (Spontaneous) | Yes |
| T (Timed) | Yes |
| ST(Spontaneous-Timed) with optional | Yes |
| iBR | Yes |
| PAC(Pressure Assist-Control) | Yes |
| iVAPS with optional Auto EPAP | Yes |
| Vsync | Yes |
| Ticontrol | Yes |
| Trigger and cycle | Yes |
| Ramp | Yes |
| Ramp down | Yes |
| Climate Control Auto | Yes |
| Essentials mode | Yes |
| ResScan | Yes |
| Dimensions (M x W x H) | 116mm x 225mm x 150mm |
| Weight | 1115 gr |
| Noise | 26.6dBA (at 10cmH2O pressure) |
| Operating pressure range | 4-25 cmH20 |
| Wireless Module Technology | 2G GSM |
| Power supply | 90W |
| Power supply range | 100-240V, 50-60Hz |
| Rated for use on an airplane | 110V, 400Hz |
| Typical power consumption | 53W |
| Maximum power consumption | 104W |
| FFA approved | YES |
| Warranty | 2 Years |
Downloads
FAQ
FAQ
Q. What does VPAP stand for?
A. VPAP stands for Variable Positive Airway Pressure device with auto-adjusting, bilevel breathing, used for treating sleep apnea and other sleep related disorders. VPAP machines are very similar to BiPAP machines in that they deliver two separate levels of pressure optimized to correspond to the patient's natural inhalation and exhalation.
Q. How is a VPAP device different from APAP and CPAP devices?
A. VPAP (variable positive airway pressure) machines are mainly used to help patients who would normally resist CPAP therapy or find it difficult to adjust to it.
Q. Which patients benefit the most from VPAP therapy?
A. In addition to sleep apnea treatment, VPAP machines are also used to treat patients in need of ventilatory support. This includes patients suffering from central sleep apnea, chest wall deformity, COPD, and neuromuscular conditions.
Q. Is a BiPAP or CPAP better for sleep apnea treatment?
A. The large majority of patients find BiPAP more comfortable than the single pressure devices such as CPAPs. The main difference between CPAP and BiPAP devices is that the latter have two pressure setting: a high pressure setting for inhalation and a low pressure setting for exhalation.
Q. What is a BiPAP device used for?
A BiPAP device is primarily used in sleep apnea treatment, respiratory conditions, and lung disease.