Sale!
ResMed Mirage FX Nasal CPAP Mask
Not many nasal masks out there offer what the ResMed Mirage FX can deliver. A masterpiece of ergonomic engineering, the Mirage FX's design is focused on user-comfort and easy use. Remarkably lightweight and easy to disassemble, this CPAP mask boasts fewer contact points, a well-balanced pressure design, and a significantly softer headgear compared to other sleep apnea masks.
Freedom to move, freedom to see, designed to fit!
Description
Description
ResMed Mirage FX Nasal CPAP Mask
Designed with user convenience in mind, the ResMed Mirage™ FX nasal mask has you covered if you are looking for the perfect balance of lightweight comfort and premium performance. Easy to use, clean and assemble, the Mirage FX is constructed of only four parts! This superior mask ensures maximum comfort during your sleep apnea therapy. Featuring a patented dual-wall, Spring Air™ cushion for a soft contact with your face. What's more, the Mirage FX comes with an ultra-flexible forehead support reducing contact with the skin.
Features
Easy to assemble/disassemble FOUR-parts design;
Butterfly Wing forehead support;
Squeeze-Tab elbow;
Dual-wall, Spring Air™ Cushion;
Diffused Vent design;
SoftEdge™ Headgear.
Simple and convenient 4-parts design
The ResMed Mirage FX boasts a strikingly minimalistic design with ONLY four total parts. This smart construct makes cleaning and maintenance a breeze! The headgear, the frame, the cushion, and the quick-squeeze elbow can now be effortlessly cleaned.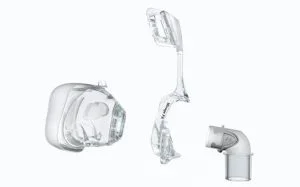 Butterfly Wing Forehead Support
The Mirage's Butterfly Wing forehead support allows you to easily flex the mask to the best possible position for a better fit. This also means that only the headgear and not the plastic comes in contact with your skin, minimizing the risk of skin irritation.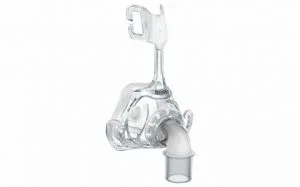 Squeeze-Tab Elbow
Setting the new standard in CPAP mask design, the Squeeze-Tab Elbow makes it easy to connect and disconnect the hose to the mask. All you have to do is squeeze the sides of the elbow and release the hose. No more searching for the right clips in the middle of the night.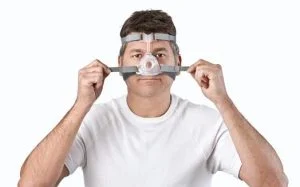 Dual-wall, Spring Air™ Cushion
Designed to significantly reduce pressure points, the Mirage FX cushion ensures even air pressure distribution through all sides. In addition, the cushion provides extra softness for the bridge of the nose.
Diffused Vent Design
The Mirage FX CPAP mask by ResMed features air vents designed for quiet and gentle air diffusion. The vents reduce noise and minimize any discomfort bed partner might experience during your therapy.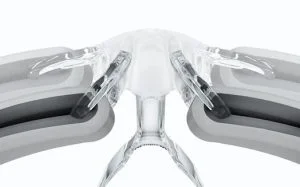 SoftEdge™ Headgear
The headgear is soft to the touch and its optimized top provides that perfect fit you need through the night.
For Her Version
The ResMed Mirage FX Nasal CPAP Mask is also available in a "For Her" version. The ladies' model includes a smaller, pink colored headgear and is available in different sizes.
Package includes:
ResMed Mirage FX Nasal Mask
Headgear
---
Technical specifications
Technical specifications
| | |
| --- | --- |
| Mask | Nasal |
| Manufacturer | Resmed |
| Cushion | Silicone; Nylon |
| Frame | Silicone; Nylon |
| Elbow | Nylon; Polypropylene; Thermoplastic Elsatomer |
| Headgear | Nylon / Lycra; Polyurethane Foam |
| Headgear included | Yes |
| Replaceable cushion | Yes |
| Headgear quick-clips | No |
| Gel cushion | Yes |
| Mask cushion type | Silicone |
| Multiple sizes included | No |
| Small Face compatibility | No |
| Wide Face compatibility | Yes |
Downloads
Downloads
Fitting Guide
Fitting Guide
Reviews (4)
Reviews