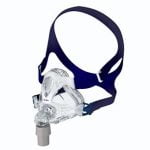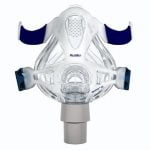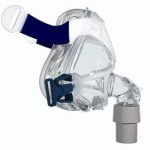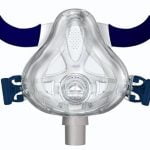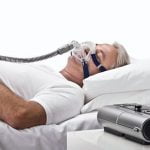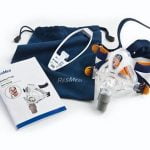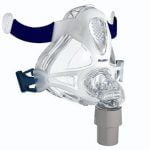 Resmed Quattro FX Full Face Mask
€140.00
The ResMed Quattro FX is an eye-catching, non-traditional full face mask designed without a forehead bar. The smaller frame of the Quattro FX begins at the nose bridge, making the mask a more compact alternative to the vast majority of full face masks. The Quattro FX for him model features an innovative spring frame offering improved balance, stability and flexibility. This mask is the best choice if you are looking for freedom of movement without affecting your sleep apnea therapy.
Description
Description
ResMed Quattro FX CPAP Full Face Mask
The core concept behind the Quattro FX CPAP mask design aims to provide a true feeling of openness achieved by eliminating the forehead bar while utilizing a much smaller frame which begins lower on the nose bridge. This lightweight mask is soft, silent and simple to set in place.
Features
Clear line of sight;
Feeling of openness;
Mask starts mid-way on the nasal bridge;
Smaller frame allows for more comfortable side-sleeping.
Soft
The patented Spring Air dual-wall cushion that rests soft on the face while providing a tight seal for truly effective and reliable therapy.
Silent
This mask comes with built-in vents that quietly redirect the air you exhale away from your face and your partner.
Simple
Engineered to avoid the sensitive area around the back of your face, the Quattro FX is also a breeze to set in place, thanks to its set-and-forget headgear.
Flexible
The Quattro FX full face CPAP mask sports a convenient 360-degree rotating elbow which connects directly to the air tube, allowing you to effortlessly adjust the mask to your various head movements during your therapy.
Package includes:
ResMed Quattro FX Mask in Selected Size
Headgear
Technical specifications
Technical specifications
| | |
| --- | --- |
| CPAP / BiPAP | Yes |
| Full face | Yes |
| Cushion material | Silicone Elastomer |
| Replaceable cushion | Yes |
| Headgear quick clips | No |
| Gel cushion | No |
| Forehead support | Yes |
| Mask cushion Type | Silicone |
| Frame material | Nylon |
| Elbow material | Nylon; Polypropylene; Thermoplastic Elastomer; Silicone Elastomer |
| Headgear material | Nylon / Lycra; Polyurethane Foa |
| Therapy Pressure Range | 3 to 40 cmwp |
| Machine Mask Setting | "Full Face" or "Mir Full" |
| | |
Downloads
Downloads
FAQ
FAQ
Q. How many sizes is the ResMed Quattro FX for him available in?
A. The Quattro FX for him is available in three different sizes ranging from small (3.5″) to large (4 3/8″).
Q. Is the Quattro FX available for her?
A. Yes, just like any other best-selling full-face mask by ResMed, the Quattro FX is available in two separate version – for Him and for Her.