Sale!
AirSense 11 Autoset Bundle with AirFit N30i Nasal Mask
The bundle includes:
ResMed AirSense 11 AutoSet
AirFit N30i Nasal Mask
Travel Bag
Tubing
Filter
Power Supply
Manual
Please note: the Humidifier is sold separately! Available for purchase here.
IN STOCK – Next-Day Delivery Available (in EU)!
Description
Description
The newest addition to ResMed's AirSense™ series is now at CPAPeuropa! Introducing the ResMed AirSense™11 AutoSet™  — a premium auto-adjusting pressure device with integrated heated humidifier, wireless connectivity, advanced event detection and patient support features.
Now available in a complete set with a mask of your choice at a special discounted price!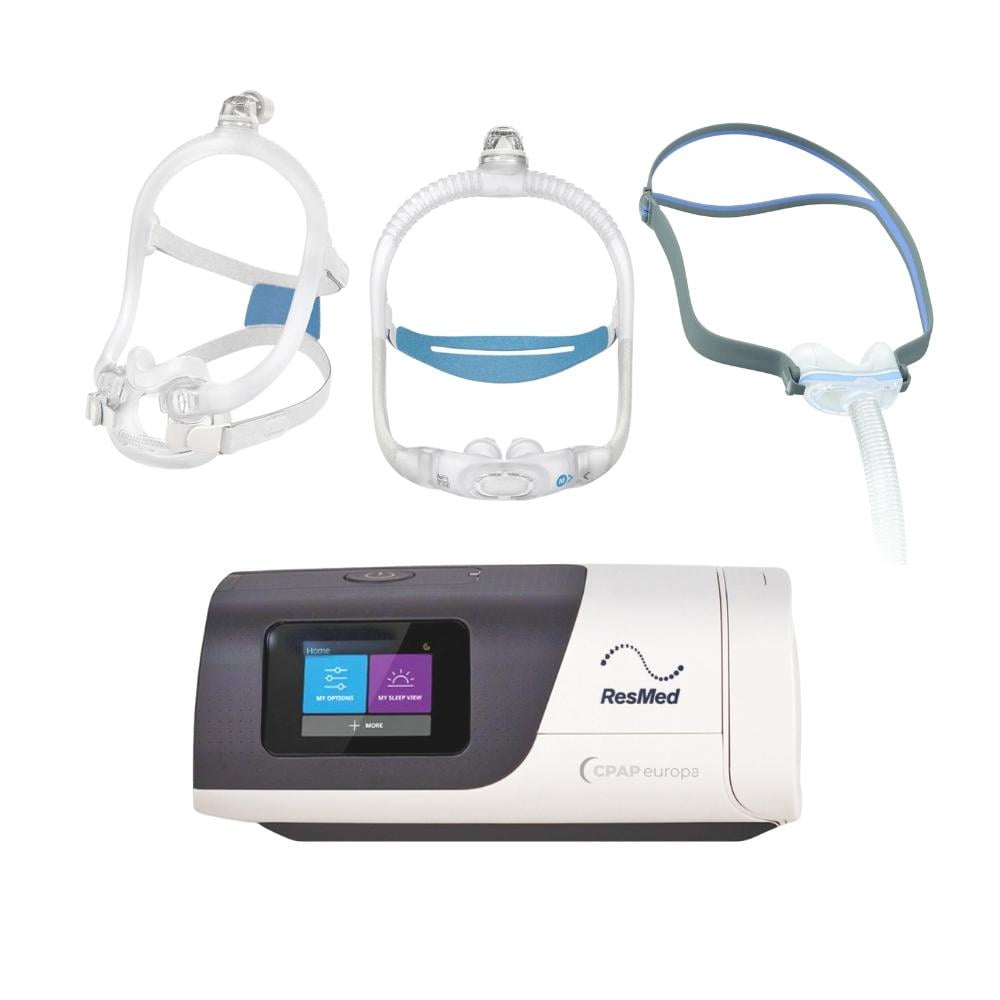 2-Year Warranty
Compatible with all currently available ResMed masks (see list)
EU 2-Pin Plug Included
Fully compatible to AC 100-240V, 50-60Hz.
Now available for purchase with Fast Shipping anywhere in Europe!
Power cord
The machine comes with an EU Power cord. A US power adapter and cord can be easily used with the device as well.
Menu languages: 

Advanced therapy support features
AirSense 11 is equipped with enhanced digital health technology designed to make starting, acclimating and adhering to therapy easier and more convenient for your patients. It combines our trusted therapy modes with digital support features designed to simplify equipment setup and therapy acclimation and provide tailored support and coaching to help them self-resolve common therapy issues.
Clinically proven algorithm
AirSense 11 includes both the AutoSet and AutoSet for Her algorithms, which are among the most clinically published in the field of sleep-disordered breathing. It works to automatically adjust to each patient's therapy pressure as their needs change – hourly, nightly and from season to season – to deliver the patient's ideal lowest therapy pressure.
Key features
• Personal Therapy Assistant in myAir™ guides patients through equipment setup and acclimation by providing interactive voice-guided video instructions;
• Care Check-In asks time-based check-in questions throughout the first month of therapy and provides tailored coaching and support to help troubleshoot common therapy issues;
• Availability of over-the-air software upgrade capability provides the opportunity to directly receive maintenance and feature updates;
• An easy-to-use touchscreen makes navigating AirSense 11 settings simple and intuitive;
• Advanced event detection identifies central sleep apnea, respiratory effort–related arousal and Cheyne-Stokes respiration events to provide treating physicians valuable insight into the continued health of your patients;
• Using AirView™, you can access nightly therapy data, troubleshoot remotely (using the Remote Assist feature) and change device settings remotely. If patients opt-in, data from their Care Check-In responses will be available in AirView, which can provide a deeper understanding of therapy progress;
• Simple Start/Stop button makes it easy to turn therapy on and off with a single tap;
• The quiet Easy-Breathe motor makes for a peaceful environment for the patient and their bed partner;
• Built-in ambient light sensor adjusts brightness of the screen based on the light in the room and turns off automatically;
• AutoRamp™ with sleep onset detection delivers a low pressure to help patients fall asleep with ease. Once the patient is asleep, it comfortably ramps up the pressure to the prescribed level;
• Expiratory pressure relief (EPR™) maintains the optimal treatment for the patient during inhalation and reduces pressure during exhalation;
• AutoSet Response comfort setting offers gentler pressure increases and a smoother night's sleep to help patients with high-pressure intolerance;
• Integrated heated humidifier can be controlled manually or automatically with the Climate Control feature;
• Combines the same trusted therapy modes of AirSense 10 AutoSet and AutoSet for Her.
The latest-generation auto-adjusting CPAP machine with multiple specialized modes
Being the auto-adjusting CPAP (adjust your therapy pressure automatically), the ResMed AirSense 11 Auto changes airflow pressure levels on a breath-by-breath basis. The algorithm features multiple clinically proven modes, including the legendary AutoSet response that allows for gentler pressure increases as well as the For Her algorithm mode designed specifically for women.
Sleep onset detection algorithm and Expiratory Pressure Relief System for maximum patient comfort
The AirSense 11 Auto CPAP machine features ResMed's sleep onset detection algorithm designed to deliver a low airflow pressure in order to help you fall asleep faster, while gradually increasing the pressure to your prescribed level once you have drifted off.
What's more, the AirSense 11 features the Expiratory Pressure Relief (EPR) mode that provides you with constant airflow pressure while you inhale and makes it easier to exhale by expertly reducing the pressure on the go.
Easy-to-Clean Humidifier with Manual or Automatic Mode
The heated humidifier can be used manually or automatically, thanks to its climate control feature. And for more convenience, the removable water humidifier tub is easy to clean and fill with water.
Sleek Design and Impressively Simple Navigation
ResMed specifically designed the sleek-looking AirSense 11 AUTO CPAP to be a breeze to operate.
The oversized START / STOP button makes it easy to start and stop your sleep apnea treatment every night and morning by the push of a finger .What's more, the easy-to-read touch screen allows you to navigate your personalized sleep apnea therapy settings with impressive ease. CPAPeuropa tested it and can confirm!
Extensive sleep reports and secure data transfer with ResMed's myAir App
The AirSense 11 Auto comes with access to ResMed's myAir app — the popular online support application that records your therapy data and guides you and your doctor along your epic journey! From myAir, you'll be able to see your daily sleep reports, your sleep score and even receive personalized coaching tips and thumbs up about your progress. What's more, the App will help your resolve the most common therapy issues and boost your compliance score even further.
In addition, the Personal Therapy Assistant feature features voice-guided set-up instructions, while also allowing for easy troubleshooting of any issues.
With myAir, your sleep data can be securely synchronized to the Cloud automatically.
Free coaching
The AirSense 11 Auto includes a special feature called Care Check-In, providing you coaching and assistance designed to meet your personal sleep apnea therapy needs.
Filter that removes environmental particulates
A fine mesh disposable air filter helps filter out environmental particulates giving you fresh and clean air while you sleep tight!
---
WE SHIP WITH 1-DAY DELIVERY TO EVERY COUNTRY IN EUROPE, INCLUDING:
Germany, Denmark, Sweden, Norway, Switzerland, Finland, Spain, Portugal, France, United Kingdom, Poland, Austria, Hungary, Luxembourg, Belgium, Slovakia, Czech Republic, Romania, and Ireland. Only to Iceland does the express shipping take 2-3 days.
WORLDWIDE SHIPPING – 3-7 DAYS
We ship worldwide on a daily basis. Whether  you're from the United States, South Africa or Japan, we got you covered. Use our automated Shipping Calculator to see the exact delivery time to your address, or say Hey! to us in the chat and ask us directly.
Reviews (2)
Reviews