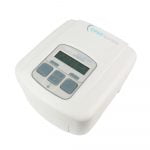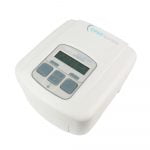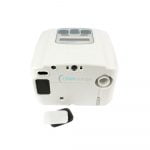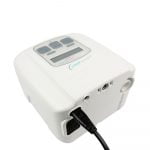 DeVilbiss SleepCube Auto Bilevel Device
€1,280.00
Introducing the DeVilbiss SleepCube automatic bi-level device, designed to deliver the best possible sleep apnea treatment for patients in need of high pressure throughout the night. This BIPAP machine is remarkably compact and lightweight. It comes with both BiLevel and CPAP modes. It is ideal for effectively treating Obstructive sleep apnea in patients that require high pressures. The device features the proprietary SmartFlex and Flow Rounding technologies for better comfort during active therapy. With SleepCube you'll finally enjoy a good night's rest.
Description
Description
DeVilbiss SleepCube Auto Bilevel Device
What sets SleepCube AutoBilevel apart from the crowd is its tried-and-tested auto adjusting algorithm that constantly monitors apnea, hypopneas and snoring during therapy. The ordinary bi-level therapy devices in this price range provide a higher fixed level inspiratory pressure and a lower pressure to to prevent apneas. But instead of relying on constants, the SleepCube algorithm adjusts the pressure levels accordingly upon detection of an event. This ensures the best possible treatment throughout the night, which the reason why the SleepCube has become so popular among users requiring high pressure therapy.
Features
Auto-adjustable pressure in the range 3 to 25 cmH2O in both BiLevel and CPAP mode
The smallest BiPAP/CPAP device with heated humidification system attached
SmartCode remote data compliance – encodes usage data, which can be easily decrypted using free software or online at http://www.sleepcube.com
Visual mask off alert feature
Standard 6ft tubing provided. Optional 10ft patient tubing available
Large slip-resistant pads on bottom of device minimise movement on the bedside table during therapy
Patient air tubing extends from the back of unit to enhance visual appeal
Integrated heated humidification system easily docks onto the bottom of the unit without requiring a separate hose or power cord
SmartLink module and software available for more detailed patient therapy management
Data is easily transferred to the PC via SD card for further analysis and reporting using the SmartLink software package
Flow rounding comfort feature included
Integrated event detection feature
Real-time LCD display shows actual pressure, leak rate and patient breathing parameters such as breath rate, I/E ratio, minute volume and tidal volume
Compact and lightweight
The Devilbiss SleepCube is remarkably compact and lightweight. This exceptional machine comes with both BiLevel and CPAP modes. It is ideal for effectively treating Obstructive sleep apnea in patients that require high pressures. The device features the Devilbiss SmartFlex and Flow Rounding technology for better comfort during active therapy. With SleepCube you'll finally enjoy a good night's rest.
One of the quietest CPAP devices on the market
SleepCube produces only 26 dBA, which makes it one of the quietest sleep apnea treatment devices out there!
12V DC compatibility
Your SleepCube can be plugged into a 12V DC source such as that found in a motor home (not with heated humidifier). Plus, the SleepCube will switch automatically to AC power if it is available and connected. It also comes with an auto-switching universal power supply of 100 – 240 V and 50 – 60 Hz, and automatic altitude compensation between 0 and 2600m (9000ft).
Design, screen and patient menu
As for the design, the Devilbiss SleepCube AutoBilevel boasts an easy-to-read backlit LCD with a user-friendly patient menu.
Auto start / off
Auto on/off automatically starts the flow of air on breathing into the mask and stops the flow of air when mask is removed.
Ramp
The delay pressure ramp eases the device to the prescribed pressure. Ramp delay settings of 0 to 45 minutes in 5-minute increments.
Package includes
Devilbiss SleepCube Auto Main Unit
Spare filter pack
AC line cord
Carrying case
Air supply tubing
Instruction Guide
---
Warranty
2-Year Warranty.
---
Technical specifications
Technical specifications
| | |
| --- | --- |
| CPAP Mode | СРАР; Bilevel S; AutoBilevel |
| Sound level | 26 dBA |
| Manufacturer | Drive DeVilbiss Healthcare |
| Pressure range | 3 and 25 cmH2O in BPAP and CPAP |
| Pressure Accuracy | +/- 0.5 hPa / cm H2O |
| SmartCode remote data | YES |
| Weight | 1.18 kg |
| PAP Dimensions (Standalone) | 10.8cm H x 16.5cm W x 17.8cm L – 4.3in H x 6.5in W x 7in L |
| Menu Languages | Dansk, Deutsch, English, Español, Français, Italiano, Nederlands, Norsk, Suomi, Svenska |
| Made In | USA |
| Humidification Options | Humidifier can be ordered separately or added later. No setup required, just click the humidifier into place. |
| Electrical Ratings | 50-60Hz, 100-240V AC |
| Max Power Consumption | 65W from AC power source (flow generator only – not with humidifier) |
| DC Option | 12V DC |
| Lit Display | YES |
| Lit Display | YES |
| Events Pressure Adjusted On | Apnoea, Hypopnoea, Snoring |
| Carry Bag Features | Humidifier Compartment, Padded Bag, Shoulder Strap |
| Altitude Compensation | Automatic |
| Automatic Mask Leak Compensation | Yes |
Downloads
Downloads
FAQ
FAQ
Q. Can I take my SleepCube Auto onto a plane?
A. Yes, you can. But please be sure to check with your airline, just in case they have stricter rules.
Q. Is SleepCube heavier compared to other CPAP/BiPAP devices?
A. Being one of the smallest CPAP devices on the market, SleepCube is also impressively lightweight, measuring just 1.2 kg!
Q. I want to add a SleepCube humidifier to my base model. How can I do that?
A.  The Devilbiss SleepCube humidifier is an easy-to-install add-on that clicks right into place when you go on to install it.
Q. What should I do with my SmartCodes?
A. SmartCodes are a special feature that records and encodes your therapy data into codes in order to evaluate the effectiveness of your therapy. You can email them to your doctor so that he or she can interpret them for you. This service is completely free to use.