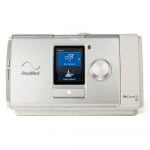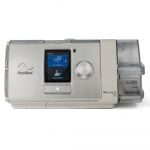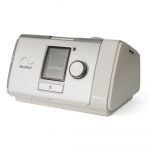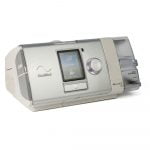 ResMed Aircurve 10 ASV with Heated Humidifier
€4,500.00
The AirCurve 10 ASV is a bilevel machine (ventilator) designed to deliver unparalleled personalized therapy for central breathing disorders, such as central sleep apnea (CSA),  Cheyne-Stokes respiration (CSR) and related obstructive events. This BiPAP boasts the most clinically-studied and proven ASV algorithm, and is the only adaptive servo-ventilator that targets the patient's own recent minute ventilation.
Description
Description
ResMed Aircurve 10 ASV with Heated Humidifier
The ASV algorithm continuously tracks and learns from the patient's respiratory rate to provide customized pressure that corresponds to the user's exact breathing pattern, covering their changing needs on the fly.
Features
Clinically-published ASV mode;
ASV Auto Mode;
Pressure adjustment to correspond to the patient's changing needs;
Mandatory breaths delivery mode
Other features
Easy-Breathe pressure waveform that imitates the wave shape of normal breathing and replicates it for your breathing comfort;
Continuous leak management for reliable therapy pressure delivery while maintaining patient-device synchrony;
Climate Control with HumidAir humidifier and ClimateLineAir™ heated air tube. Delivers a constant, comfortable temperature and humidity levels during therapy. Minimize the common side effects of therapy to increase compliance.
ASV mode
The clinically-published ASV algorithm constantly learns, responds, predicts and synchronizes with the patient's respiratory pattern to help rapidly stabilize respiration. The pressure support varies to respond to the patient's need. Mandatory breaths are delivered at the patient's recent spontaneous breath rate.
In ASVAuto mode, this Bilevel machine responds within the breath, adjusting Pressure Support to stabilize respiration. It also automatically adjusts the expiratory pressure in order to provide the minimum pressure required to maintain upper airway patency. ASVAuto mode analyzes the state of the patient's upper airway on a breath-by-breath basis and delivers expiratory pressure within the allowed range.
Package includes:
ResMed Aircurve 10 ASV
HumidAir Integrated Humidifier
Water Tub
Stylish Travel Bag
SD Card
Power Supply Unit
Air Tubing system
Technical specifications
Technical specifications
| | |
| --- | --- |
| CPAP | Yes |
| VAuto | No |
| S | No |
| T | No |
| ST | No |
| ASV | Yes |
| ASVAuto | Yes |
| Easy-Breathe waveform | Yes |
| SmartStart | Yes |
| MaskFit | Yes |
| Climate Control | Yes |
| Enhanced Climate Control Auto | Yes |
| Vsync leak management | Yes |
| Built-in wireless connectivity | Yes |
| myAir™ | Yes |
| Power Supply Unit | 90W |
| Typical Power Consumption | 53 W |
| Operating temperature range | +41F to 95F |
| Operating Humidity Levels | 10 to 95% relative humidity (non-condensing) |
| Operating altitudes | sea level to 2,591m |
| Pressure level | SlimLine: 26.6 dBA with uncertainty of 2 dBA – Standard: 26.6 dBA with uncertainty of 2 dBA Power level: – SlimLine: 34.6 dBA with uncertainty of 2 dBA – Standard: 34.6 dBA |
| Dimensions (H x W x D) | 4.57″ x 10.04″ x 5.91″ (116 mm x 255 mm x 150 mm) |
| Weight (device and standard water tub) | 44 oz (1248 g) |
| Weight (device and cleanable water tub) | 44 oz (1248 g) |
| Housing construction | Flame retardant engineering thermoplastic |
| Water capacity | To maximum fill line 380 mL Standard water tub – material: Injection molded plastic, stainless steel + silicone seal |
| Cleanable water tub – material | Injection molded plastic, stainless steel + silicone seal |
Downloads
Downloads
FAQ
FAQ