ResMed Lumis 100 VPAP ST Ventilator
€ 2,480.00 (Free EU/UK Shipping)
The ResMed Lumis 100 VPAP ST is designed as a personalized ventilator for a variety of respiratory conditions. Featuring a range of features for personalized ventilation, the Lumis 100 VPAP is easy to set up and use. This variable positive airway pressure is ideal for non-independent patients with obstructive sleep apnea or other respiratory conditions of the upper airway.
Available alternatives:
ResMed AirCurve 10 VAuto BiLevel Device
ResMed AirCurve 10 S BiPAP Device
Description
Description
ResMed Lumis 100 VPAP ST
Non-invasive Ventilator
The ResMed Lumis 100 ST is packed with smart technology features focused on comfortable and effective personalised ventilation. This model is ResMed's one-of-a-kind noninvasive ventilator designed for non-independent patients with obstructive conditions. The device comes equipped with built-in wireless connectivity to ResMed's cloud-based patient management system AirView™, allowing for seamless remote monitoring.



The ultimate noninvasive ventilator experience for personalised ventilation
Features
Vsync advanced ventilator synchrony: provides excellent patient–ventilator compliance even if significant leaks are detected;
TiControl™: allows you to set min and max limits on either side of your ideal inspiratory time. TiControl is designed to encourage spontaneous breath;
Trigger and cycle: easily optimisable settings tailored to your specific condition, using five trigger and cycle sensitivity levels;
QuickNav: low-touch therapy adjustment feature allowing you to toggle between Settings and Monitoring screens by the click of a button;
Climate Control Auto: automatic humidification feature. Combined with a HumidAir™ heated humidifier and ClimateLineAir™ heated tube, Lumis 100 delivers humidification automatically. No more difficult-to-understand settings or complicated menus to navigate;
Ramp and Ramp Down: extra comfort feature offering both Ramp and Ramp Down functionality to help patients ease into and out of each therapy session;
ResScan software: advanced clinical insights feature allowing you to download your therapy data, change ventilator settings, and gain insight into their therapy progress across a number of metrics such as AHI, leak and pressure;
High-resolution data (at 25 Hz) is available for breath-by-breath analysis and even greater insight.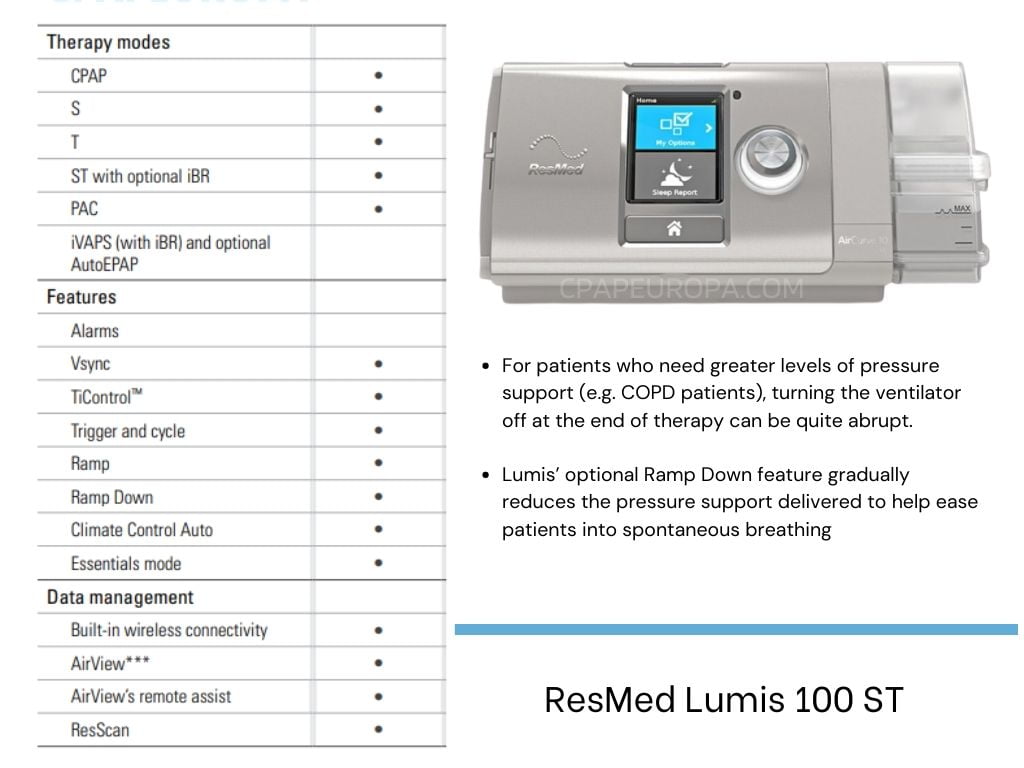 Other features
Continuous leak management: ensures reliable delivery of therapy pressure and patient-device synchrony;
Compatible with up to 15 L/min of supplemental oxygen in ST;
Integrated ambient light sensor: sensor adjusts to the light conditions of your room. The screen light of the device turns off automatically, so when you get up during the night the backlight won't disturb your bed partner and you can settle back to sleep without disturbance.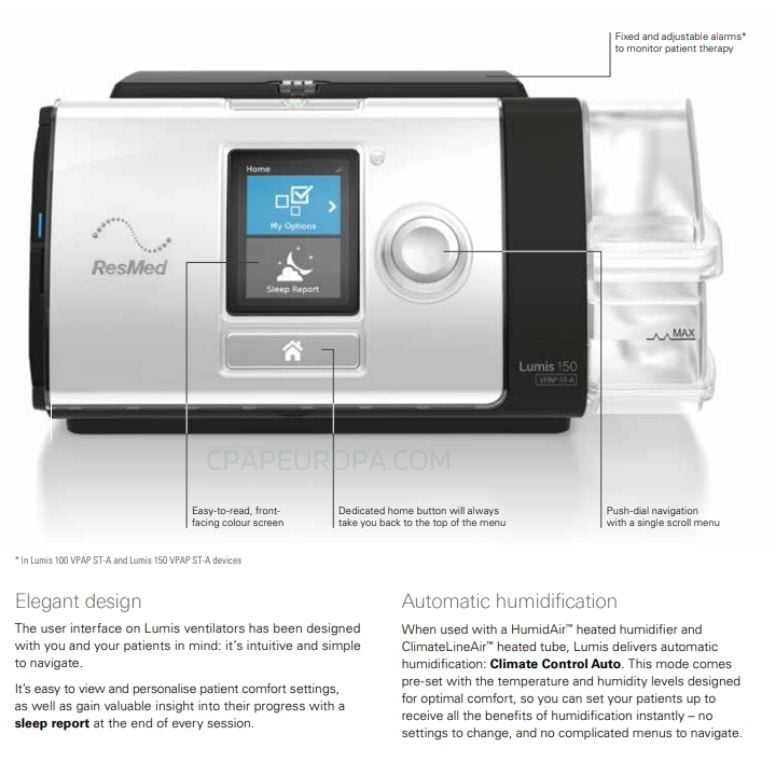 The package includes:
Resmed Lumis 100 VPAP device
Charger
Tubing
SD Card
Travel bag
Filter cover
---
Warranty
2-Year Manufacturers Warranty.
---
Express shipping available for all EU countries and the US
1-Day TNT Delivery available for 
Austria, Belgium, Czechia, Denmark, Estonia, Finland, France, Germany, Greece, Hungary, Iceland, Italy, Latvia, Liechtenstein, Lithuania, Luxembourg, Malta, Netherlands, Norway, Poland, Portugal, Slovakia, Slovenia, Spain, Sweden, Switzerland
Technical specifications
Technical specifications
| | |
| --- | --- |
| CPAP (continuous positive Airway pressure) | Yes |
| S | Yes |
| T | Yes |
| ST | Yes |
| Easy-Breathe waveform | Yes |
| Ti Control | Yes |
| Trigger and Cycle | Yes |
| Climate Control | Yes |
| Climate Control Auto | Yes |
| Vsync leak management | YES |
| Built-in wireless connectivity | YES |
| Ramp | YES |
| Ramp down | YES |
| Essentials mode | YES |
| ResScan | YES |
Downloads
Downloads
FAQ
FAQ
Q. What is a BiPAP device used for?
A. A BiPAP device is primarily used in sleep apnea treatment, respiratory conditions, and lung disease.
Q. Is ResMed AirCurve 10 VAuto noisy?
A. No, the sound output of the AurCurve 10 is 27 dBa, which makes it very quiet and sleep-friendly.
Q. What is the difference between AirCurve 10 S and AirCurve 10 ST?
A. The ResMed AirCurve 10 S model is an advanced-feature Bi-Level device with a spontaneous (S) mode of operation, while the ST mode stands for spontaneous-timed mode of operation. Both of the models are exceptionally effective at treating sleep apnea symptoms.
Reviews (0)
Reviews